UHF Gen 2 Passive RFID Animal Ear Tag Features Long Data Retention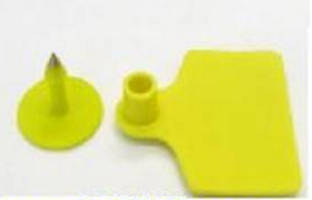 Toronto, Canada - GAO RFID Inc. (www.GAORFID.com) recommends its UHF passive RFID animal tag operating at a frequency range of 860MHz to 960MHz for global use. The RFID tag is suitable for tracking any medium to large sized livestock. It is also widely used in animal monitoring to record information regarding an animal's feeding, location and vaccination.

This passive animal ear tag, model 116034, shows robust performance over the entire UHF bandwidth and operates reliably in dense reader environments while maintaining an optimum read range. It boasts a maximum data retention of ten years and offers a unique custom command set, which ensures easy, secure communication between the transponder and RFID readers. The custom command set includes Electronic Article Surveillance (EAS) and Read Protection. The RFID tag has an IP67 protection rating which guarantees its suitability for use in harsh environments making it an ideal choice for tracking animals.

For sales inquiries please contact:

1-877 585-9555 ext. 601 - Toll Free (USA & Canada)

1-416 292-0038 ext. 601 - All Other Areas

sales@gaorfid.com

About GAO RFID Inc.

GAO RFID Inc. (www.GAORFID.com) is a leading provider of RFID Readers, RFID Tags and RFID software providing cost saving solutions to end users worldwide. GAO offers all RFID technologies: Low Frequency (LF), High Frequency (HF), Ultra High Frequency (UHF, Gen 2) as well as Active and Semi-Passive.