UART Serial Port Module includes WLAN security feature.
Press Release Summary: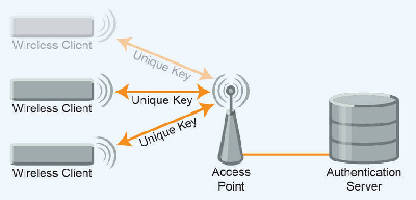 For mission critical applications, OWS451 WLAN UART Serial Port Module is supplied with Extensible Authentication Protocol-Transport Layer Security. With EAP-TLS, each wireless client is assigned unique authentication certificate. EAP-TLS makes it possible to centrally manage individual units when one would like to centrally remove certain client's certificate. With client-side certificate, security is also sustained as compromised password is not enough to break into EAP-TLS-enabled systems.
---
Original Press Release:

connectBlue Releases New WLAN Security Feature



Today, connectBlue® made available the Extensible Authentication Protocol-Transport Layer Security (EAP-TLS) as a Wireless LAN (WLAN) security feature. EAP-TLS is particularly beneficial in mission critical applications when there is a need to increase security and / or to centrally authorize individual wireless units.



In small embedded systems, WLAN security features applied are usually various forms of encryption such as WPA-PSK, WPA2-PSK. Typically, the assigned authentication key is the same for all distributed wireless units. However, with EAP-TLS, each wireless client is assigned a unique authentication certificate.



"Applying EAP-TLS in small embedded systems is unusual as it is mostly seen in large, complicated systems. But since a key component of the connectBlue delivery is a repeatedly robust wireless experience, we have put extensive resources into applying the EAP-TLS security feature," says Rolf Nilsson, CEO of connectBlue. "Now, also mobile or portable WLAN applications can enjoy real-time handover as well as disturbance-free roaming."



New connectBlue WLAN UART Serial Port Module OWS451s are shipped with the added-on EAP-TLS feature whereas customers who have installed OWS451 modules can easily download upgrade firmware from the connectBlue support site. The OWS451 EAP-TLS feature has already been tested and validated in key mission critical applications.



EAP-TLS is considered as one of the most secure standards and is thus often required by central IT management. For instance, EAP-TLS makes it possible to centrally manage individual units when one, for example, would like to centrally revoke a certain client's certificate. Thanks to the client-side certificate, security is also sustained as a compromised password is not enough to break into EAP-TLS enabled systems as the potential intruder would also need the client-side private key. Both these advantages make EAP-TLS particularly beneficial in demanding factory automation and medical installations.



About connectBlue

connectBlue® is a leading provider of robust Industrial and Medical wireless solutions, designed and tested for the most demanding applications and environments. Based on Classic Bluetooth technology, Bluetooth low energy technology, Wireless LAN (WLAN) and IEEE 802.15.4 / ZigBee, connectBlue provides ready-to-use products and modules as well as custom design solutions. connectBlue has its head office in Sweden and local offices in Germany and USA. For more information, please visit www.connectblue.com.



connectBlue® is a registered trademark of connectBlue AB.



For further information

connectBlue – Americas:

Bill Saltzstein

Phone: + 1 425.442.5854

Email: bill.saltzstein@connectblue.com



connectBlue – Asia-Pacific:

Pelle Svensson

Phone: +46 40 6307103

Email: pelle.svensson@connectblue.com



connectBlue – Europe, Middle East & Africa:

Martin Engdahl

Phone: +46 40 6307123

Email: martin.engdahl@connectblue.com

Related