Types of Forklifts: What You Need to Know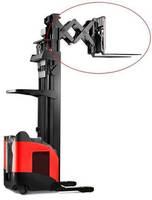 Forklifts are designed with features that are matched to various types of pallet storage application needs:



Used Electric Pallet Jack: picking from low level storage locations



Used Power Operated Stacker: lower weight lifting capabilities for internal transport



Used Power Counterbalanced 3 and 4 Wheel Fork Lift Truck: Loads are counterbalanced by the weight of the vehicle with mast heights designed for the application



Used Narrow very Narrow Aisle Trucks: truck base does not have to turn within the working aisle because load is moved sideways into or out of the storage rack



Used Reach Truck: load is retracted within the wheel base allowing a truck to operate in an aisle with reduced width.



The electrically powered used reach truck has replaced the traditional counter balance fork truck for many pallet handling applications. Because a reach truck can operate in a narrower aisle, added storage space can be achieved or allow added space for operational needs.



Substantially increased lift heights can also be achieved exceeding 33'.  Reach trucks do have some restrictions relative to possible 1st beam height so discuss this with our storage specialist.



ASI has been in the used storage & material handling equipment industry for over 20 years serving over 25,000 customers. Our storage specialist can quickly review your application against used reach truck features and benefits if needed. All reach truck sales are covered by a lowest price & 30 day guarantee.



More from Architectural & Civil Engineering Products