Tying Machine has maximum tying diameter of 6 in.
Press Release Summary: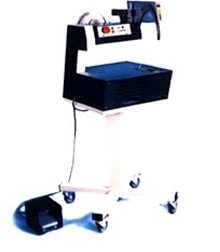 TM 66 ties coils, hanks, or bundles of wire, cable and tubing. It automatically wraps tension elastic cord around material to be bound, ties knot in cord and cuts ends. Minimum tying diameter is 0.2 in. Machine includes adjustable tying tension and automatic cord loading. Electronic safety eye or sensor monitors and prevents machine from operating if there are objects or hands above cut-out.
---
Original Press Release:
The TM 66 Tying Machine
The TM 66 tying machine was designed to tie coils, hanks or bundles of wire, cable and tubing. The machine uses an ingenious concept to automatically wrap tensioned elastic cord around the material to be bound, tie a knot in the cord and then cut the ends. This Schleuniger Tying Machine is user-friendly and serves as an ideal companion to all Schleuniger cutting, cutting/stripping, coiling and stacking systems. The TM 66 features a minimum tying diameter of 0.2" and a maximum tying diameter of 6". Some features include: Adjustable tying tension, automatic cord loading, and low cost tying material just to name a few. No adjustments are required for different bundle diameters. Additionally, the TM 66 is equipped with an electronic safety eye or a sensor which is located on a clearly indicated cut-out zone where the tying occurs. This safety feature will monitor and prevent the machine from operating if there are any objects or hands above the cut-out. The Schleuniger tying machine is truly universal and can be used to bind any materials that fit into the machines' parameters. The TM 66 is only available in North America Schleuniger, headquartered in Switzerland, is an independently owned, multinational group of companies, committed to the design and manufacture of machinery for the high quality stripping of all types of wire and cable.
Contact This Company Download Spec Sheet
More from Machinery & Machining Tools