TXtreme™ Distribution Transformer comes with corrosion resistant coating.
Press Release Summary: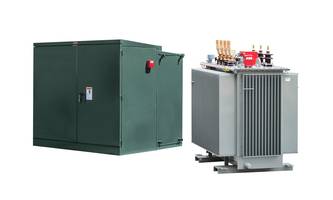 Designed for harsh operating conditions containing salt, moisture or chemicals, TXtreme™ Distribution Transformer comes with ABB's new coating formula which reduces the cost of repainting and increases service life of transformer. TXtreme™ transformer enhances grid reliability. Using ABB's new innovation, transformers can be protected from corrosive substances.
---
Original Press Release:
ABB Unveils New TXtreme™ Distribution Transformer for Greater Resilience in Harsh Environments
New coating extends the longevity of the transformer and enhances grid reliability
ABB announced today the launch of a new longer life distribution transformer called TXtreme™, featuring a special coating that protects the transformer from corrosion in the most severe environments.
Distribution transformers are key assets in power transmission and distribution networks and are designed to operate 20 to 30 years. However, harsh operating conditions containing salt, moisture or chemicals can cause premature corrosion, which is one of the main causes of transformer leaks or failure.
The need of utilities and grid operators to protect energy supply with exceptionally robust electrical equipment is greater than ever, to ensure asset resilience and grid reliability. Equipment uptime and continuous energy supply are also critical to industries, such as the oil and gas sector.
An offshore oil and gas platform can be a damaging environment for a transformer, due to its continuous exposure to wind and salt water. This may lead to premature transformer failure and force operators to replace units prematurely or develop costly alternatives using stainless steel materials.
To mitigate these issues, ABB has mastered the process of applying a unique coating formula that ensures ongoing operation of the distribution transformer. ABB's new innovation significantly protects the transformer from corrosive substances, extending its service life and eliminating the cost of frequent repainting.
"We are delighted to provide this innovative product to support increased grid resilience and reliability for utilities, and optimized performance and improved uptime for industries," said Markus Heimbach, Managing Director of ABB's Transformers business unit, a part of the company's Power Grids division. "TXtreme is an integral part of ABB's Transformer Resilience initiative designed to help utilities protect assets and is another example of our Next Level strategy to enable a stronger, smarter and greener grid."
ABB offers a complete range of power and distribution transformers designed for reliability, durability and efficiency. The company's vast portfolio includes both liquid-filled and dry-type transformers as well as services for complete lifecycle support, including replacement parts and components.
ABB (NYSE: ABB) is a pioneering technology leader in electrification products, robotics and motion, industrial automation and power grids, serving customers in utilities, industry and transport & infrastructure globally. Continuing more than a 125-year history of innovation, ABB today is writing the future of industrial digitalization and driving the Energy and Fourth Industrial Revolutions. ABB operates in more than 100 countries with about 132,000 employees. ABB has invested heavily in North America, with acquisitions totaling nearly $10 billion. ABB employs 20,000 throughout the U.S. in various manufacturing, engineering, robotics and technology positions. www.abb.com
For more information, please contact:
ABB Media Relations
Bill Rose
Office : 919-807-5743
Mobile : 919-244-4879
Related