Two-Post Vehicle Lift increases productivity in tight spaces.
Press Release Summary: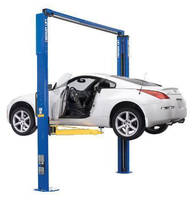 With 10 ft, 3 in. width and 7,000 lb capacity, ATO7 helps shop owners increase productivity in smaller bays. Design maximizes drive-through space between columns, and 92 in. clearance leaves ample work room for technicians. Along with 3-stage front arms which reach manufacturer-recommended pick-up points and accept adapters, lift comes with stack adapters and storage racks. Standard features include single-point lock release, overhead shutoff bar, and asymmetric design.
---
Original Press Release:

Boost Productivity in Small Spaces with New Rotary Lift ATO7 Two-Post Lift



MADISON, Ind. -- Rotary Lift's new space-saving ATO7 7,000 lb. capacity two-post lift helps shop owners get more productivity out of tight spaces. The lift features an overall width of just 10 feet, 3 inches - 14.5 inches less than a traditional two-post lift - and enough lifting capacity to handle the majority of cars on the road.



"The ATO7 two-post lift is our most popular lift in Europe, where we introduced it eight years ago," says Jim Dirksen, vice president of sales and marketing for Rotary Lift. "We're bringing it to the North American market to help shops that need to maximize productivity in smaller bays. For example, many older East Coast shops and dealers in areas where land is expensive may have narrow bays. Since the average car today weighs around 4,000 lbs., the lift's 7,000 lb. capacity is more than enough for facilities that primarily service cars. The ATO7 two-post lift is the best option for 10-foot-wide bays and it can greatly increase a flat bay's capabilities."



While its overall width is significantly narrower than a standard two-post lift, the ATO7 is designed to provide maximum drive-through space between the columns. Its 92-inch clearance is only three inches narrower than Rotary Lift's bestselling SPOA10 10,000 lb. capacity two-post lift, leaving plenty of room for technicians to work.



The ATO7 lift is equipped with many of the features that make the larger SPOA10 two-post lift so popular. It comes with Rotary Lift's three-stage front arms, which are capable of reaching more manufacturer-recommended pick-up points than standard two-stage arms. The arms accept the same adapters that fit the SPOA10 lift, providing a familiar setup process for technicians who may have used them previously. Stack adapters and storage racks are included with the standard lift package. The ATO7 and SPOA10 two-post lifts also share the same proven power unit, single-point lock release and overhead shutoff bar.



To provide access to the vehicle's interior and under-dash components, the ATO7 lift features a true asymmetric design. The columns are each rotated 45 degrees toward the rear of the vehicle, which allows for maximum door opening space while keeping the vehicle's center of gravity in line with the optimum load capacity of the columns. This reduces unnecessary wear and tear on the lift column, carriage and bearings.



"The ATO7 two-post offers many of the advantages found on larger-capacity two-post lifts, but in a smaller package," says Dirksen. "It is ideal for older shops with limited space, second-floor service bays, or facilities that simply don't need more than 7,000 lbs. of lifting capacity." 



The ATO7 two-post lift has been been third-party tested and Automotive Lift Institute (ALI) certified to meet ANSI safety and performance standards.



To learn more about the Rotary Lift ATO7 two-post lift, contact your local Rotary Lift distributor, visit www.rotarylift.com or call (800) 640-5438. You can also find Rotary Lift on Facebook, www.facebook.com/RotaryLift; Twitter, twitter.com/RotaryLift; and Vimeo, http://vimeo.com/groups/rotary.



About Rotary Lift

Rotary Lift is the leading brand of vehicle lifts and equipment designed to increase technician productivity. Founded in 1925 by the inventor of the first automotive hydraulic lift, Rotary Lift offers the broadest line of lifts for use in professional automotive service, commercial truck and transit, and enthusiast/residential customer segments. There are more Rotary Lift products used in vehicle repair shops around the world than any other brand.



Rotary Lift is a Vehicle Service Group (VSG) brand. VSG comprises nine major vehicle lifting and collision repair brands: Rotary Lift, Chief(®) Automotive Technologies, Forward(®) Lift, Direct-Lift(®), Hanmecson(®), Revolution(®) Lift, Elektron, Blitz(®) and nogra(®). Based in Madison, Ind., VSG has operations worldwide, including ISO 9001-certified manufacturing centers in the U.S., Europe and Asia.

More from Software