Two-Point Resistance Checker New From ACL Staticide
Press Release Summary: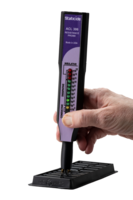 The new two-point resistance checker from ACL Staticide has been added to its already comprehensive line of static control instruments. The checker features fast
resistance readings during maintenance checks and quality control and inspection. 
---
Original Press Release:
ACL Staticide® Introduces New Two-Point Resistance Checker
August 2022 -- ACL Staticide introduces a two-point resistance checker to its comprehensive
line of static control instruments. The handheld ACL 306 is an all-in-one solution for fast
resistance readings during maintenance checks and quality control and inspection. Portable and
lightweight, it measures resistance in smaller areas and is ideal for testing ESD packaging with
nooks and recesses.
Dan Kaiser, ACL's national sales manager said, "We are excited to offer our customers a
convenient and reliable solution for measuring resistance levels particularly in very small areas
or on parts in assembly lines that are simply too small for five-pound electrodes."
The ACL 306 features metal spring-loaded pogo pins that may be used with or without rubber
boots depending upon the application. The resistance checker provides accurate readings
without added wires or a megohmmeter. The color LED logarithmic scale is easy-to-read and
evaluate.
Other features of the #306 Two-Point Resistance Checker include:
Measuring range: 103 - 1012 ohms
Measures .05" wide
Dimensions: 2.8" x 5.1" x 1.4"
Conductive pogo pins
Made In the USA
ACL Staticide® has been a trusted supplier to electronics manufacturers for 50 years with
products for the automotive, avionics, medical device, plastics and telecommunications
industries. From highly regarded static control products designed for ESD-protected areas, to
contamination control products for critical environments, to enhanced precision preparation
products for PCB rework, repair and prototyping, ACL Staticide® is a worldwide leader.
Recognized for performance, quality and innovation, ACL Staticide® complies with all domestic
and international standards and regulations and stands behind its pledge to deliver only the
best with every product.
Related