Two-Part Polyurethane accelerates concrete repair.
Press Release Summary: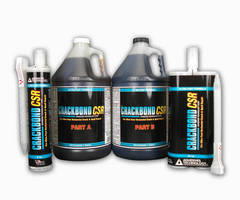 With cure time under 20 min, Crackbond CSR exhibits strength of 4,900 psi in 1 hr. Viscosity allows deep penetration into concrete cracks, enabling high-strength structural repair. Self-leveling material, which may be used down to 0°F, consists of resin and hardener uniformly dispensed from dual cartridge system and mixed simultaneously through mixing nozzle. Uses include repairing spalled floor joints and concrete on bridge and parking decks as well as repairing floors.
---
Original Press Release:

Fast Urethane Crack and Spall Repair



Pompano Beach, Florida – Adhesives Technology Corp (ATC) (http://www.atc.ws/) is pleased to bring you a specially formulated two-part Polyurethane called Crackbond CSR (http://www.atc.ws/concrete_repair_epoxy_crackbondcsr.html).  This concrete repair material has a very low viscosity which offers deep penetration into concrete cracks providing a professional high-strength structural repair.



If you are looking for an ultra fast-setting formula, you've found it with CSR.  Areas of high traffic can be reopened quickly with a cure time under 20 minutes and strength of 4900 PSI in 1 hour.  This is perfect for areas that require minimum down time in the repaired area.



CSR is great for repairing spalled floor joints and concrete on bridge and parking decks.  It's also used for repairing floors prior to floor grinding and polishing.  CSR is self leveling and the addition of aggregates can produce a mortar.  With the coldest months immediately around the corner, you'll be happy to hear that this product can be used in temperatures down to 0°F.



This two-part polyurethane is very easy to use.  The resin and hardener are uniformly dispensed from a dual cartridge system and mixed simultaneously through a mixing nozzle, providing contractors with a self-mix delivery system.  These cartridges are available in 9 ounce or 22 ounce options.  It is also sold in a bulk 2 gallon kit for larger applications.  Crackbond CSR can be mixed with kiln dried Medium Grade silica sand to form a repair mortar and then placed into the spalled area and smoothed out with a trowel.



Click here (http://www.youtube.com/watch?v=2Zs2C5b4J2g&feature=plcp), to see our Crackbond CSR instructional video on YouTube.



Since the early 70's, ATC (http://www.atc.ws/) has been a leading U.S. manufacturer and R & D facility specializing in epoxies, acrylics, ester blends and polyureas for the construction and repair markets.  We supply our distributors and private label  (http://www.privatelabeladhesives.com/index.html) clients with proven products for anchoring, doweling, bonding, joint filling, concrete repair, maintenance/restoration and other specialty applications. From heavy duty construction needs to everyday household repair we have the solutions to keep it together.



For more information, call:1.800.892.1880



For more information on our products and private label services: visit us www.atc.ws and www.privatelabeladhesives.com



Like us on Facebook: http://www.facebook.com/AdhesivesTechnology

More from Electronic Components & Devices