Two-Part Epoxy features low exotherm during cure.
Press Release Summary: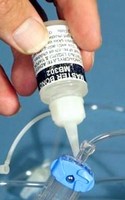 Master Bond Polymer System EP37-3FLSP bonds to substrates such as metals, glass, ceramics, plastics, and elastomers. Optically clear epoxy features electrical insulation properties and exhibits resistance to vibration, shock, and thermal cycling. Suited for large-volume castings, product has 20 Shore D hardness, 1,000 psi tensile strength, and over 400 V/mil dielectric strength. Pot life after mixing exceeds 10 hr, and full cure occurs within 4-7 days at ambient temperatures.
---
Original Press Release:

Two Part Epoxy Features Low Exotherm



Master Bond Polymer System EP37-3FLSP is a newly developed optically clear, flexible, low viscosity 2 part epoxy system for large volume castings. It features a long working life, low exotherm during cure as well as very low shrinkage and excellent dimensional stability. The EP37-3FLSP has a convenient non-critical mix ratio of 2/1 by weight. The "pot life" after mixing exceeds 10 hours. Depending on the volume of mixed compound, full cure at ambient temperatures occurs within 4 to 7 days. Volumes as much as 1 gallon and more can be readily cast at room temperature without undue exotherm development. Master Bond Polymer System EP37-3FLSP features outstanding electrical insulation properties, superior resistance to vibration, shock and thermal cycling. It bonds well to a variety of substrates including metals, glass, ceramics, most plastics and many elastomers.

EP37-3FLSP has a volume resistivity that exceeds 1014 ohm cm. The dielectric constant measures 4.6 and the dielectric strength exceeds 400 volts/mil (1/8" thick sample). Tensile strength is around 1000 psi and elongation is more than 30%. Shore D hardness measures 20. Water absorption is less than 1% after full immersion of 24 hours. Master Bond Polymer System EP37-3FLSP is an excellent choice for assuring the serviceability of large volume heat and shock sensitive electronic and/or electromechanical devices as well as optical assemblies and components.

For further information please visit: www.masterbond.com or contact our Technical Support Department.

USA & Canada
Phone: 201-343-8983
Fax: 201-343-2132
E-mail: technical@masterbond.com

Asia, Central and South America Western U.S and Western Canada
Phone: 818-793-5605
Fax: 201-696-9031
Email: catech@masterbond.com

Eastern and Western Europe and Africa
Phone:+44-207-039-0034
Fax: +44-207-060-0628
E-mail: eutech@masterbond.com

Middle East
Phone: 972-2-652-8384
Fax: 972-2-652-8402
E-mail: meda@masterbond.com

Company Name: Master Bond Inc
Address 1: 154 Hobart Street
Address 2:
City: Hackensack
State: NJ
Zip: 07601
Country: USA
Phone: 201-343-8983
URL: www.masterbond.com

Contact Name: Rachel Ruchama
Organization: Master Bond
Title: Director of Internet Promotion
E-mail: rruchama@masterbond.com

More from Adhesives & Sealants