Two Great Toppings, One Machine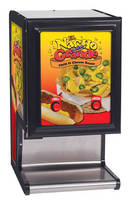 Heat up your nacho and hot dog sales with one convenient machine. The compact #5301 Dual Chili Cheese Machine runs on a standard, 15-amp plug, holds two 140-oz. bags on each side, and only measures 15" W x 17" D. It's the perfect profit-packed machine for high-volume locations. You can serve out of one bag while the other pre-heats, allowing for minimal or no downtime.

Contact us at (800) 543-0862 or info@gmpopcorn.com to learn more about this product, or any of our equipment and supplies. Ask for your free copy of the catalog. Or, visit www.gmpopcorn.com to see our complete lines, get free money-making resources, and view the online version of the catalog.

We're celebrating our 80th anniversary! Since 1931, we've helped countless businesses focus on the fun while making money. What can we do for you? Contact us today.

10700 Medallion Drive | Cincinnati, Ohio 45241 | www.gmpopcorn.com
twitter.com/GMPopcornFan | www.gmpopcorn.com/facebook

For more information about this release, contact Bethe Ferguson at
800-543-0862 ext. 2384 or bferguson@gmpopcorn.com.

Go Gold Medal All the Way!

More from Communication Systems & Equipment