Two-Component Potting Compound from DELO Protects Sensors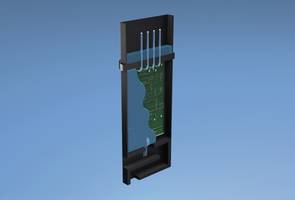 DELO-DUOPOX CR8031 safeguards electronic components from damage caused by chemicals
Technical Specifications
Good adhesion to different plastics, including polyamide and ABS
Compression shear strength of 20 MPa on polyethylene
Withstand temperatures up to 180°C
Mechanical properties remain the same at 85°C and 85% air humidity
Sudbury, MA November 2017 – DELO, one of the world's leading manufacturers of industrial adhesives for automotive, consumer and industrial electronics applications, now offers a potting compound for automotive and power electronics. DELO-DUOPOX CR8031 protects electronic components, like sensors, from damage caused by gas, oil, salt and other chemicals.
This new, easy-to-handle two-component epoxy resin exhibits good adhesion to different plastics, including polyamide and ABS. It offers a compression shear strength of 20 MPa on polyethylene after plasma treatment.
With an elongation at tear of 5%, DELO-DUOPOX CR8031 is tough-hard and can withstand permanent temperatures up to 180°C. After 1000 hours of storage at this same temperature, and after 1000 hours at 85°C and 85% air humidity, the product's mechanical properties remain the same.
Resistant to oil and fuel, DELO-DUOPOX CR8031 is ideal for applications like potting of sensors and printed circuit boards or sealing of housings, in the engine compartment of vehicles.
This new epoxy resin achieves reliability and flows easily without any fillers, allowing for no risk of filler sedimentation. No stirring or degassing of the potting compound is needed, resulting in a simpler system design.
DELO-DUOPOX CR8031 is a low-viscous product and is mixed in a 2:1 ratio. It can be used for fully automatic production, as well as semi-automatic processes in medium production volumes. The multi-purpose casting compound can be applied as if it is a one component adhesive through dispensing guns with static mixing tubes.
It is optimized for fast production and can be heat-cured within 10 minutes at 80°C. Without additional heating, functional strength is reached after 16 hours of curing at room temperature. This saves energy and minimizes stress on the component.
For more information contact Robert Lush at info@delo.us or 1-978-254-5275.
Watch the latest videos: https://www.youtube.com/user/DELOadhesives/
Get our updates: https://www.linkedin.com/company/delo-industrial-adhesives
Follow us: https://twitter.com/DELOadhesives
UPCOMING TRADESHOWS: CAMX 2017, Orange County Convention Center, Orlando, Florida, 12/12-14, Booth: M72
Reader Service Inquiries: Robert Lush, DELO Industrial Adhesives LLC, 144 North Road, Suite 2650, Sudbury, MA 01776; info@delo.us; 1-978-254-5275.
ABOUT DELO:
DELO is one of the world's leading manufacturers of industrial adhesives used within the automotive, aviation, optoelectronics and industrial electronics industries. Headquartered in Windach, Germany, DELO has subsidiaries in the USA, China and Singapore. In fiscal year 2016-2017, DELO generated sales revenues of $101 million.
Editorial Contact:
The Simon Group, Inc.
Joanna Puglisi-Barley
Phone: (215) 453-8700
E-mail: publicrelations@simongroup.com
More from Machinery & Machining Tools