Two-Component Epoxy Adhesive gels in 3 minutes.
Press Release Summary: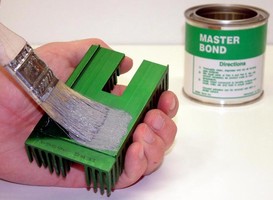 Used in general-purpose bonding applications or as electrical insulator, Polymer Adhesive EP44 gels in 3 min and cures within a few hours at ambient temperatures to develop bonding shear strength of 3,150+ psi. Parts bonded with this solution can be safely handled within 30 min, and bonds are resistant to thermal cycling as well as chemicals over -60 to 250°F range. Product adheres to metals, glass, ceramics, wood, vulcanized rubbers, and plastics.
---
Original Press Release:

Strong "Super Glue" "3 MINUTE" Cure Epoxy



Hackensack, NJ. January 25, 2008-Master Bond has introduced EP44 a new two component epoxy adhesive with a fast "3 minute" set for high performance general purpose bonding. Master Bond Polymer Adhesive EP44 gels in about 3 minutes and cures within a few hours at ambient temperatures to develop a high bonding shear strength of more than 3150 psi. The bonding strength is relatively insensitive to cleaning procedures. EP44 Bonded parts can be safely handled within a half hour. It produces durable high strength and tough bonds which are remarkably resistant to thermal cycling and chemicals including water, oil and most organic solvents, over the exceptionally wide temperature range of -60°F to more than 250°F.

Master Bond EP44 adheres well to metals, glass, ceramics, wood, vulcanized rubbers and many plastics. The hardened adhesive is a superior electrical insulator (volume resistivity, >1015 ohm-cm). It is recommended for use in the electronic, electrical, computer, construction, metalworking, appliance, automotive and chemical industries. It is suggested that Master Bond EP44 be mixed in small quantities because of its fast gelling properties. It is highly recommended for production line assemblies and high speed bonding operations.

About Master Bond:

Master Bond is a manufacturer of high performance adhesives, sealants, coatings, potting and encapsulation compounds and impregnation resins. The product line offers over 3,000 grades of specially designed formulations of acrylics, anaerobics, cyanoacrylates, epoxies, latex, polyamides, polyurethanes and silicone systems to provide an optimal solution for even the most extreme applications.

For further information please visit our website at www.masterbond.com or contact:
James Brenner. Phone: 201-343-8983 Fax: 201-343-2132 E-mail: technical@masterbond.com

More from Adhesives & Sealants