Twisted Nematic LCDs are optimized for contrast, energy efficiency.
Press Release Summary: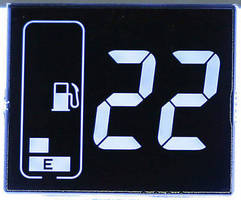 Available in sizes from 1.0-5 in.², InfoVue EBTN (Enhanced Background Twisted Nematic) LCDs employ custom negative image TN LCD technology and are compatible with standard LCD drivers. Masking technology, used between 2 glass panels, effectively blocks light to provide optimal contrast TN negative image. Featuring 300:1 contrast ratio, RoHS-compliant products enable sharp, crisp negative images to be displayed using any color backlight.
---
Original Press Release:

New InfoVue EBTN LCDs from Lumex Provide Market-Leading Contrast and Cost Savings



Custom LCD technology has wide viewing angle, low energy requirements and uses standard drivers

PALATINE, IL - Lumex announces the global launch of their InfoVue EBTN (Enhanced Background Twisted Nematic) family of custom negative image TN LCD technology. InfoVue EBTN LCDs provide significant performance and cost savings benefits including contrast up to 6x higher than standard TN LCDs, technology costs up to 40% lower, and energy requirements up to 50% lower than alternative technologies.

InfoVue EBTN technology is compatible with standard LCD drivers and is ideal for a wide range of applications including:

industrial control device technology (including gas pumps, flow meters, control panels, test chambers);

medical device technology (including portable heart monitors, gas analysis monitors, portable defibrillators, and disposable glucometers);

communications equipment (including routers, switches and gateways)

appliances (including displays on ovens, microwaves, refrigerators, dishwashers and washers)

"The new proprietary masking technology used between the two glass panels is very effective at blocking light and allows the InfoVue EBTN to provide the highest contrast TN negative image available in the LCD market today," explained Yasoob Ahmed, Display Technology Manager at Lumex. "The resulting sharp, high contrast negative image promotes brand image and ensures easy and accurate display viewing."

InfoVue EBTN LCDs provide key performance benefits compared to traditional LCD technology. InfoVue EBTN LCDs offer a contrast ratio of 300 to 1, compared to traditional LCDs which offer a contrast ratio of 50 to 1. Sharp, crisp negative images can be displayed using any color backlight.

InfoVue EBTN LCDs also generate significant cost savings compared to alternative technologies like VFDs (Vacuum Florescent Displays). InfoVue EBTN LCDs can cost up to 40% less than VFDs and also require 50% lower energy consumption.

The RoHs compliant InfoVue EBTN LCDs are available in sizes ranging from 1.0 inches squared to 5 inches squared.

Pricing is approximately $0.50 to $10.00 per unit in production quantities dependent on size and quantity ordered. Standard lead time for completed custom technology is 8 weeks and all orders come with expert support from Lumex's team of Technical Design Specialists.

About Lumex
For 30 years, Lumex has been a global leader in the optoelectronics industry, with the broadest range of high efficiency, high performance LEDs and LCDs in the industry. With thousands of standard products and a focus on semi-custom and custom designs, Lumex is a valuable resource for quality and innovation. Lumex's optical range encompasses a wide spectrum including UV, visible and infrared wavelengths. Lumex's team of Technical Design Specialists are experts in collaboratively developing effective, smart solutions from the most complex design dilemmas.

Lumex has a global footprint with the worldwide headquarters outside Chicago and the Asian headquarters in Taiwan. With manufacturing capabilities in the United States, China, Taiwan and Thailand, Lumex is able to support over 23 end markets with more than 80,000 customers both directly and through our distribution channel partners. Over the last 30 years, the name Lumex has become synonymous with quality and performance around the world.

About ITW Photonics Group
The ITW Photonics Group was created to bring together and build on the technical expertise of individual companies that specialize in photonics technology and span the full spectrum of wavelengths. The group consists of:


Lumex - LED and LCD technology

Cal Sensors - IR Detector and Emitter technology

Opto Diode Corp - LED, Silicon Photodiodes and Electro-Optical Assembly technology

The synergy of these three industry front-runners provides an unsurpassed range of photonic capabilities within a broad spectrum of markets, including medical, military and industrial controls. The ITW Photonics Group provides integrated solutions that encompass the technology and experience from all three business units, offering design engineers higher performance with greater feature enhancements.

More from Controls & Controllers