Twin Rotary Vibratory Screens employ dual vibratory motors.
Press Release Summary: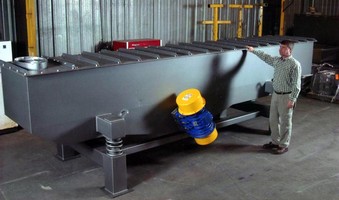 Used in applications requiring lengths in excess of 5 ft and widths over 18 in., twin rotary vibratory feeders/screens are suited for feeding, conveying, screening, and elevating material. Four coil springs, located on frame assembly, minimize vibration transfer and ensure gentle handling of material. Since product weight is typically in suspension, self-propulsion energy promotes optimal efficiency. Material is processed at speeds from 50-3,500 ft³/hr.
---
Original Press Release:

Dual Vibratory Motors On Gough Econ Twin Rotary Vibratory Screens Assure Energy Efficent Conveying and Storage



CHARLOTTE, N.C. - Use of two vibratory motors to power the Gough Econ line of small and large capacity twin rotary vibratory feeders/screens assure economic and energy efficient operation for added reliability, gentler handling and optimum flexibility.

According to Gough Econ, vibration energy is one of the most economic methods of conveying and storage if applied correctly. The result is added savings in productivity as well as energy efficient operation.

Gough Econ twin rotary vibratory units are ideal for a variety of applications from food to industrial, salt, batteries, chemicals, fertilizer, glass cullet, metal powders, soap/detergents, ceramics and a variety of other materials.

Gough twin rotary units are typically used when applications are beyond the scope of an electromagnetic drive and in particular when units require lengths in excess of five ft and widths greater than 18 in. Material is processed at speeds that vary from 50 to 3,500 cubic feet per hour.

Four coil springs located on the frame assembly minimize vibration transfer and assure gentle handling of the material. Since product weight is typically in suspension, self-propulsion energy is used in the operation for added efficiency. The motors consume minimal amps. Since no major foundation is required, installation is easy and inexpensive.

"Vibratory energy is part of a technology and drive combination we offer that can be used to feed, convey, screen and even elevate material," according to Gough Econ. "Our equipment is tough, gentle and clean with flexibility and reliability that makes us one of the premier manufacturers of bulk material handling solutions." About Gough Econ
Gough Econ was established in 1974 in the United States as a subsidiary of a UK company founded in 1940. Today, Gough Econ's operations are locally owned and headquartered in Charlotte, N.C. where the design, manufacturing and administrative functions take place.

The company specializes in the design and manufacture of standard and engineered material handling systems that move and protect its customer's products. Gough Econ also provides a variety of technical services including product testing, product engineering, control systems design and installation management.

Besides vibratory feeders, other products Gough Econ offers include bucket conveyors, belt conveyors, hoppers, tote dumpers, bulk bag handling equipment and storage conveyors.

For more information on the twin rotary vibratory feeders and screens or other equipment or services, contact Gough Econ at P.O. Box 668583, Charlotte, N.C. 28266-8583. Telephone is 1-800-264-6844; FAX (704) 392-8706 and e-mail sales@goughecon.com. Gough Econ can also be found on the web at www.goughecon.com.

More from Fluid & Gas Flow Equipment