TVU Networks Wins "Best Product" in Inaugural Broadcast Production Awards from NewscastStudio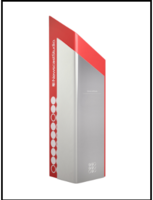 TVU Contribution Automation Solution (TVU CAS) Named One of the Year's Most Innovative Technology
MOUNTAIN VIEW, CA – June 27, 2019 – TVU Networks, the global technology and innovation leader in live IP solutions, was a winner in the inaugural Broadcast Production Awards from NewscastStudio, a trade publication for broadcast production. TVU CAS (Contribution Automation Solution) won in the "Best New Product or Service" category.
"NewscastStudio is a well regarded broadcast industry source, and we're thrilled with their recognition of our TVU CAS as one of the year's top technology innovations," said Paul Shen, CEO, TVU Networks. "It's further validation that our overall TVU MediaMind story-centric workflow platform, of which TVU CAS is a critical part, has tremendous revenue-generation and workflow benefits to broadcast professionals and content creators. We're grateful for this honor."
TVU CAS is designed to streamline the capture and automatic metadata tagging of live video content. With TVU CAS, all video acquisition resources, such as people and equipment, are identified for specific stories and tasks at the story creation stage. Assignments are automatically pushed to personnel in the field through connected devices. These devices include portable mobile transmitter equipment such as TVU One and TVU Anywhere as well as fixed equipment like TVU MLink. TVU CAS is part of the comprehensive TVU MediaMind workflow, designed to eliminate barriers between social media, digital and broadcast production departments and revolutionize how media is produced, distributed and consumed within existing workflows.
The Broadcast Production Awards (BPA) are an expansion of NewscastStudio's annual "Set of the Year" awards program. This year's competition attracted over 200 entries across all categories. The complete list of winners is available online at NewscastStudio's dedicated BPA website.
About TVU Networks®
TVU Networks has over 2,500 customers in more than 85 countries. The TVU Networks family of IP transmission and live production solutions gives broadcasters and organizations a powerful and reliable workflow to distribute live video content to broadcast, online and mobile platforms. TVU has become a critical part of the operations of many major media companies. The TVU Networks suite of solutions has been used to acquire, transmit, produce, manage and distribute professional-quality live IP HD footage as an integral part of news, sports and major global events. For more information about TVU Networks solutions, please visit www.tvunetworks.com.
Social Media Links:
TVU Networks on Twitter
TVU Networks on Instagram
TVU Networks on Facebook
TVU Networks on LinkedIn
TVU Networks on YouTube
More from Electrical Equipment & Systems