TVU Networks to provide Georgia Lottery Corp. with IP-based distribution for statewide lottery drawing broadcasts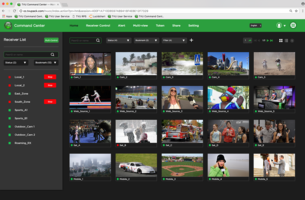 MOUNTAIN VIEW, CA – August 15, 2018 – TVU Networks, the global technology and innovation leader in live IP solutions, today announced that the Georgia Lottery Corp. switched from a satellite model to an IP-based distribution system from TVU.
TVU Grid is in use three to four times a day, seven days a week, to distribute the Georgia Lottery drawings to affiliates across the state. Drawings are televised live on WSB-TV, Channel 2 in Atlanta; WALB-TV, Channel 10 in Albany; WJBF-TV, Channel 6 in Augusta; WRBL-TV, Channel 3 in Columbus; WMAZ-TV, Channel 13 in Macon; and WSAV-TV, Channel 3 in Savannah. 
TVU Grid enables broadcasters to acquire live video from different sources and distribute it to other Grid-enabled locations. TVU Grid provides the ability to route live video streams with as low as a half-second delay over IP networks to one or more Grid-enabled news stations anywhere in the world. Stations can take any video source, whether it be an SDI feed, IP video camera, Internet video, or a TVU transmitter and distribute the live video stream to any number of locations with sub-second latency. TVU Grid's simple to use interface gives users control over the switching and routing of video streams from anywhere on a network of Grid-enabled locations. 
TVU transmitters are the primary hardware component of TVU Grid, enabling stations to share video in real-time. The TVU Transceiver is a custom-built appliance that sits in each station and connects to Grid via a standard broadband internet connection. Stations can input video from any source to the Transceiver, whether it be from other stations connected to the Grid, from a TVU transmitter, from any online video feed or from another SDI source in the station.
Video demo of TVU Grid:
https://www.youtube.com/watch?v=3djQD_0Hi4c
TVU Networks has over 2,500 customers in more than 85 countries. The TVU Networks family of IP transmission and live production solutions gives broadcasters and organizations a powerful and reliable workflow to distribute live video content to broadcast, online and mobile platforms. TVU has become a critical part of the operations of many major media companies. The TVU Networks suite of solutions has been used to acquire, transmit, produce, manage and distribute professional-quality live IP HD footage as an integral part of news, sports and major global events. For more information about TVU Networks solutions, please visit www.tvunetworks.com.
Social Media Links:
TVU Networks on Twitter
TVU Networks on Instagram
TVU Networks on Facebook
TVU Networks on LinkedIn
TVU Networks on YouTube
About TVU Networks®
TVU Networks® is the global technology and innovation leader in IP-based live video solutions. TVU's solutions help transform broadcasters' SDI-based operations - which include acquisition, transmission, routing, distribution and management - to an IP-based infrastructure. TVU® serves customers of all sizes in more than 85 countries from industries that include news broadcast, web streaming, law enforcement, sports, corporate and government. In broadcast markets around the world including the USA, China and other major economic powers, TVU® is the dominant market leader with a large majority of all news broadcast stations using its IP video solutions. Using its proprietary IS+ technology, TVU's uplink solutions use any combination of cellular, satellite, microwave, WiFi and Ethernet IP connections to deliver live HD video from practically any location.
More from Software