TVU Networks' Innovative Contribution Automation Solution Comes with Integrated Metadata and Contribution Management Capability
Press Release Summary: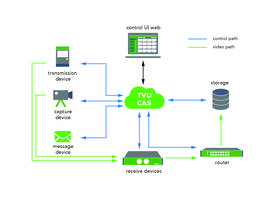 TVU Contribution Automation Solution (CAS) helps in automating planning, resource management, acquisition, transmission and routing process. The CAS automatically executes the planned tasks by capturing metadata, such as story slug, and information without human involvement. CAS streamlines the acquisition process by shifting focus from rigid program to flexible centric workflow.
---
Original Press Release:
NAB 2018: TVU Networks' Contribution Automation Service Streamlines the Video Content Acquisition Process
Intelligent workflow automation focuses on story-based content collection
MOUNTAIN VIEW, CA – April 4, 2018 – At the NAB Show next week, TVU Networks, the global technology and innovation leader in live IP video solutions, will introduce TVU Contribution Automation Solution (TVU CAS), an innovative service which automates planning, resource management, acquisition, transmission and routing, and also features integrated metadata and contribution management. Furthermore, TVU also provides an open API (TVU CASAPI) for acquisition devices, transmission devices, receiving devices and routers as well as news systems to be integrated into TVU CAS. TVU Networks will exhibit at NAB in Las Vegas next week in booth C1707.
As demand increases for more live content for news, sports and entertainment, and fast production process in general, streamlining the live video content acquisition and processing of live video content is becoming a necessity for most media organizations, such as TV stations. TVU CAS is able to have the entire acquisition process planned at story creation stage. The resources, such as people, devices and routing are assigned to story and tasks. In addition, all assignments are pushed to field devices, and the personnel who are involved. It will automatically execute the planned tasks according to the plan. Metadata, such as story slug, and information are automatically captured and associated with the corresponding content without human involvement.
"The existing human-driven content acquisition process is inefficient for the increased demand for production efficiency. TVU CAS addresses today's production needs because it focuses on people and stories rather than machines and manual process," said Paul Shen, CEO, TVU Networks. "The entire content acquisition process becomes streamlined and more efficient with TVU CAS and allows the focus to shift from a rigid program centric to a flexible story centric workflow."
TVU Networks has over 2,500 customers in more than 85 countries. The TVU Networks family of IP transmission and live production solutions gives broadcasters and organizations a powerful and reliable workflow to distribute live video content to broadcast, online and mobile platforms. TVU has become a critical part of the operations of many major media companies. The TVU Networks suite of solutions has been used to acquire, transmit, produce, manage and distribute professional-quality live IP HD footage as an integral part of news, sports and major global events. For more information about TVU Networks solutions, please visit www.tvunetworks.com.
Social Media Links:
TVU Networks on Twitter
TVU Networks on Instagram
TVU Networks on Facebook
TVU Networks on LinkedIn
TVU Networks on YouTube
About TVU Networks®
TVU Networks® is the global technology and innovation leader in IP-based live video solutions. TVU's solutions help transform broadcasters' SDI-based operations - which include acquisition, transmission, routing, distribution and management - to an IP-based infrastructure. TVU® serves customers of all sizes in more than 85 countries from industries that include news broadcast, web streaming, law enforcement, sports, corporate and government. In broadcast markets around the world including the USA, China and other major economic powers, TVU® is the dominant market leader with a large majority of all news broadcast stations using its IP video solutions. Using its proprietary IS+ technology, TVU's uplink solutions use any combination of cellular, satellite, microwave, WiFi and Ethernet IP connections to deliver live HD video from practically any location.
More from Electrical Equipment & Systems