TVSS Module provides uninterrupted protection.
Press Release Summary: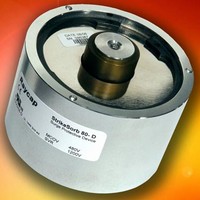 Strikesorb® meets requirements of UL-1449, second edition, without resorting to use of internal fuses. Comprised of single 80 mm dia distribution-grade metal oxide varistor in hermetic aluminum housing, this transient voltage surge suppression (TVSS) module provides uninterrupted protection from surge currents up to 200 kA and can be directly connected on power bus bars inside cabinet of equipment after main circuit breaker. Module comes in ratings for applications from 120-600 V.
---
Original Press Release:

Raycap's Strikesorb® TVSS Module Provides Uninterrupted Protection for Electrical Equipment



Fuseless SPD meets revised UL-1449 standard for overvoltage/surge protection...

Morrisville, N.C. (February 15, 2007) - Raycap Inc., a leader in transient voltage surge suppression technology, has developed the industry's only transient voltage surge suppression (TVSS) module that provides uninterrupted protection from surge currents of up to 200kA. The Strikesorb® module meets the stringent requirements of the recently revised UL-1449 (2nd edition) standard, without resorting to the use of internal fuses. Strikesorb's unique construction - comprised of a single large distribution-grade metal oxide varistor (MOV) disc (80mm in diameter) in a hermetic aluminum housing - provides uniform distribution of the surge current over the total area of the MOV protection element, resulting in a high-energy handling capability combined with ultra-low let-through voltage to the protected equipment.

"Strikesorb has been designed and manufactured to withstand repeated surges, and thus provide the ultimate protection to telecommunication and IT infrastructure, automatic control systems and other sensitive electronic equipment," said Dr. Kostas Samaras, President of Raycap Inc. "The Strikesorb module is designed to be installed in locations where the risk of direct lightning strikes is high or where there is a history of frequent surge-related equipment failures."

The Strikesorb module is the only UL-1449 recognized (2nd edition) surge protection device in the industry rated for safe operation without the use of additional internal fuses. Its patented design and environmentally-sealed aluminum housing minimizes the effects of MOV "aging" and completely eliminates the risk of catastrophic failure, explosion or fire.

The Strikesorb module exhibits low clamping voltage and can be directly connected on the power bus bars inside the cabinet of the equipment after the main circuit breaker. Unlike other TVSS systems that employ arrays of conventional MOV components with 90° angled lead wires to each varistor, Strikesorb's unique monolithic design provides a straight electrical path to its large single disc of distribution-grade varistor material. The absence of lead wires and internal disconnect mechanisms gives the Strikesorb extremely low contact resistance.

The Strikesorb module has been tested successfully to 10/350µs direct lightning waveforms as specified by IEC 61643-1. Strikesorb modules are offered at ratings to fit a variety of applications including operating voltages of 120V up to 600V. Strikesorb modules are offered in two variations, Strikesorb-40 rated at 140kA and Strikesorb-80 rated at 200kA according to NEMA LS-1.

Both the 80mm and 40mm modules can also be integrated inside larger systems or within Raycap's Rayvoss® stand alone TVSS system. The Rayvoss system can utilize the Strikesorb suppression module in a variety of configurations and operating voltages including single-phase, split-phase, three-phase wye and three-phase delta configurations with voltages that range from 120V to 480V respectively.

Strikesorb modules are designed for use in applications that require protection from lightning and power surges, including oil, gas and petrochemical equipment; power generation equipment; wind turbines; telecommunication and cable TV equipment; radar equipment; telecommunication street cabinets; medical equipment; industrial automation; control and process management electronics; variable speed drives (VSDs); uninterruptible power supplies (UPSs); and a host of other applications requiring continuous 24/7 operation because safety is critical.

For more information about the Strikesorb module, contact Raycap at One Copley Parkway, Suite 545, Morrisville, NC 27560; call 919-200-4508, or visit raycapinc.com/strikesorb.

About Raycap Inc.
Raycap Inc., headquartered in Morrisville, N.C., manufactures advanced transient voltage surge suppression modules and systems for a broad range of applications. With manufacturing facilities in Europe, the company exports its RayvossÒ systems and StrikesorbÒ modules to more than 40 countries around the world and has operations in the U.S., Canada, Panama, Switzerland, Romania, Bulgaria and Serbia-Montenegro. Raycap Inc. is a subsidiary of Raycap Corporation, which was founded in 1987. The Athens, Greece based service provider and manufacturer provides diversified products for the telecommunications, energy, pipeline and the electronics - defense industries.

More from Mounting & Attaching Products