Global Positioning Systems (GPS)
TV/Navigation System offers in-car entertainment solution.
Press Release Summary: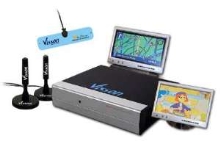 Model A2000T integrates GPS navigation with DVB digital TV, enabling motorists to watch digital TV, see a DVD, and simultaneously utilize navigation system. Navigation component benefits motorists from road-safety and convenience point of view by providing best routes to destinations and pointing out obstacles.
---
Original Press Release:

Visson's Combo DVB-T + Navigation System on Show at COMPUTEX Taipei


COMPUTEX, Taipei (Taiwan) - June 2, 2005. Visson Technologies' A2000T Combo DVB-T digital TV plus Navigation system is currently on display at the Grand Hyatt Hotel in Taipei, following a series of demonstrations at the recent CES, CeBIT, and Car+Sound shows. The A2000T in-car entertainment solution integrates GPS navigation with DVB digital TV, with the emphasis on its navigation component.

"During 2004 and 2005 our company made numerous technology advances, and gradually shifted our focus to high-end mobile DTV receivers, navigation systems, and integrating these technologies with entertainment modules", James Wu, CEO for Visson, mentioned today at Visson's exhibition suite in the Grand Hyatt Hotel. "We are positioned very favorable for current global DTV markets, and with our cross-platform capabilities for a diverse range of technologies, Visson has proven its competence as a global DTV leader," James stated. "Our future vision is to combine standards such as DVB, ISDB and ATSC into a single product, and we also plan to gradually cross into handheld markets."

A demo of the A2000T Digital TV and Navigation system can be viewed at COMPUTEX Taipei 2005 (May 31 - June 4, 2005), at Suite 1334 in the Grand Hyatt Hotel. Visson will announce an official release and shipping-ready date for this solution later in 2005, when it is ready for worldwide distribution.

"Visson securing its position as a global DTV leader..."

"We are closely following global trends with regards to DTV and convergent technologies, in order to maintain our position as a leading innovator," Sherry Tsai, Vice-President of Sales & Marketing for Visson, mentioned today. "Combo car navigation and DTV systems, combined with entertainment modules, is undoubtedly the way to go for in-vehicle entertainment, and our company is determined to set the global DTV pace and trend. We are positive that, with our R&D knowledge base, we are capable of incorporating the diverse worldwide DTV standards into our products, and with our future handheld solutions we aim to transform a mere vision for versatile handheld DTV into reality," Sherry further explained.

Combining Navigation with DVB-T
The A2000T offers the ultimate in-car entertainment experience, enabling motorists to watch digital TV, see a DVD, and simultaneously utilize a navigation system along their journey. The A2000T Navigation Component benefits motorists from a road-safety and convenience point of view, by providing the best routes to destinations, pointing out obstacles, and offers several other functions.

About Visson Technologies
Visson Technologies, Inc., a member of the VIA Technologies Group, specializes in the design and manufacturing of digital TV and multimedia consumer products, with its main focus on digital television receivers for home entertainment, mobile and handheld products. Our aim is to design digital TV receivers compliant with global digital TV standards, including DVB-T, DVB-H, ATSC and ISDB. Further to its digital TV solutions, Visson diversifies across a wide spectrum of cutting edge technologies, including navigation systems and car PC's, and integrating these with their range of DTV receivers.

For more information contact:
Visson Technologies, Inc.
2F, 529-1 Chung-Cheng Rd., Hsin-Tien, Taipei 231, Taiwan
+886 (0)2 2218-8010 +886 (0)2 2218-8020 (Fax)
http://visson.com.tw/
General enquiries: vissoninfo@via.com.tw

Pieter du Toit, Marketing Manager
PieterduToit@via.com.tw

Tony Lee, Sales Manager
TonylLee@via.com.tw

More from Paints & Coatings