Turnkey System provides DC/RF/Opto hybrid switching.
Press Release Summary: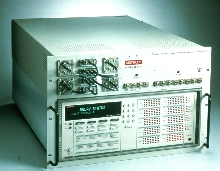 Fully integrated System 40 can consist of Keithley 7001 or 7002 switch controller, and switches, attenuators, couplers, and other components integrated into 19 in. rack-mount package. Choice of 40 types of cards provide custom switching options for up to 400 channels. Interconnecting ATE through pre-programmed System 40 improves utilization of automated instruments such as communication analyzers and vector network analyzers.
---
Original Press Release:
Fully Integrated, Turnkey System Provides Custom DC/RF/Opto Hybrid Switching For Virtually Any Application

CLEVELAND-April 2, 2002-Keithley Instruments, Inc. (NYSE:KEI) announced today the addition of fully integrated factory configurations for hybrid DC/RF/optical switching to its
System 40 product line. In addition to the switches, attenuators, and other DC and RF components that traditionally have been offered for the System 40, users can now specify
systems with configurations that include cards from Keithley's Model 7090 family of optical switching products and related accessories. These options make the System 40 capable of virtually any type of switching application involving DC voltages and currents, RF, microwave, light, digital signals, or any combination thereof. Keithley is one of only a few instrument
companies offering DC/RF/optical hybrid switching capability.

Hybrid switching is increasingly necessary for testing today's electronic products that include more and more optoelectronic, microwave, and radio frequency functionality. The advantages
to users of Keithley's fully integrated and tested switching system include enhanced performance, simplicity of programming, improved product support, and robust hardware constructed with components from the industry's leading suppliers. By using Keithley's design and manufacturing resources, users can receive optimized switching solutions to their most complex switching problems, allowing them to concentrate on meeting the goals of their testing, rather than on designing and building switching equipment. The System 40 is offered with the aid of Keithley Application Engineers, who can help users solve their unique requirements with compact, custom switching solutions, rather than a rack full of discrete, general-purpose instruments.

Applications and Markets. The growing complexity of electronic products has increased the complexity of ATE, semiconductor, RF, optical, and traditional test systems tremendously in terms of channel numbers and types of signals systems must address. Customers use Keithley signal routing solutions in the testing of a wide variety of products, including laser diode modules, optoelectronic devices, cellular and digital phones, satellite transponders, wireless peripherals, set-top boxes for cable and satellite systems, radio frequency integrated circuits (RFICs), and high speed digital products. Signals can encompass extremely low to extremely high voltage and current levels, DC to light frequencies, temperature, and other physical parameters. While the range of possible applications is extremely varied, such test systems share a common requirement in that they must be able to perform automated, high integrity switching of signals to and from instruments in order to achieve maximum test speed, accuracy, repeatability, and cost-effectiveness.

Previously, users typically solved custom hybrid switching applications by purchasing instruments and components from different suppliers, then assembling them into finished
systems. This method presents drawbacks in that system integrators and programmers must contend with making hardware and software from different manufacturers operate together and
communicate, then verifying total system performance. Such systems typically have a larger physical footprint and lack comprehensive support. Keithley's compact System 40 simplifies
programming while consolidating technical support and maintenance through a single vendor.

System 40. The System 40 Custom Switch System was developed for test engineers who need a turnkey solution delivering high throughput and fast execution of precision test protocols.
Interconnecting ATE through the pre-programmed System 40 improves the utilization of complex, automated instruments, such as communication analyzers and vector network analyzers.

The System 40 can consist of a Keithley 7001 or 7002 switch controller, and precision switches, attenuators, couplers, and other high performance components integrated into a 19-inch rack-mount package. More than 40 types of switching cards are available to provide a broad range of custom switching options for up to 400 channels, including Keithley's new family of Model 7090 Optical Switching Cards. The system is customized to the user's exact needs, so key system parameters can be optimized for the best performance.

Existing System 40 users who wish to add Model 7090 Optical Switching Cards to their systems should consult the factory.

Price and Availability: The base price of the System 40 is approximately $10,000. Final price and delivery depends on user-specified cards, components, and options, and will be determined
at time of order. Typical delivery is 6-8 weeks after receipt of order. Keithley applications support is available to help customers design and configure their systems at no additional
charge.

For More Information. For more information on the System 40, the Model 7090 family of optical switching products, or any of Keithley's test and measurement solutions, contact Keithley Instruments at:

Telephone: 800-552-1115

440-248-0400

FAX: 440-248-6168

E-mail: product_info@keithley.com

Internet: www.keithley.com

Address: Keithley Instruments, Inc.
28775 Aurora Road
Cleveland, OH
44139-1891

About Keithley Instruments. Keithley Instruments, Inc. provides electrical, RF (radio frequency) and optical measurement solutions to the telecommunications, semiconductor, optoelectronics and other electronics manufacturing industries. Engineers and scientists around the world use Keithley's advanced hardware and software for process monitoring, production
test and basic research.

Products and company names listed are trademarks or trade names of their respective companies.
More from Architectural & Civil Engineering Products