Turning Tools cover holes down to 1 mm diameter.
Press Release Summary: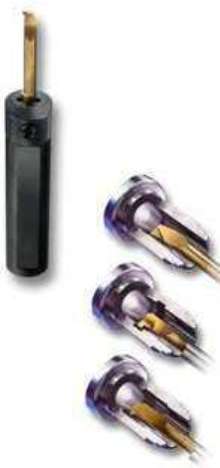 CoroTurn XS tooling solutions for internal turning, grooving, and threading, are designed for small part machining. Program is comprised of 4 sizes: CXS-04, -05, -06 and -07. Each includes inserts of varying length that fit into boring bars with internal cutting fluid supply directed at cutting edge via 2 nozzles to ensure chip evacuation and sufficient cooling. Boring bars range from 10-25.4 mm dia.
---
Original Press Release:

CoroTurn XS Brings Big News for Small Components


Extra small turning tools which cover holes down to 1 mm diameter.

CoroTurn XS tooling solutions for internal turning, grooving and threading bring all the performance of CoroTurn down to smaller bores than ever, in a design conceived with small part machining.

The program comprises four sizes, CXS-04, -05, -06 and -07, each including inserts for a range of hole diameters, and available in different lengths to suit different applications.

These inserts fit into boring bars designed with internal cutting fluid supply, directed at the cutting edge via two nozzles to ensure chip evacuation and sufficient cooling. Boring bars range from 10 to 25.4 mm diameter.

The inserts locate precisely into the boring bars thanks to a locating pin, which guarantees correct positioning of the cutting edge, every time.

CoroTurn XS is designed for high precision small part machining in sliding head-stock CNC machines within the automotive, watch, connector and medical industry.

AB Sandvik Coromant
811 81 Sandviken, Sweden
Tel. +46 (0)26-26 60 81 Fax +46 (0)26-26 63 91
Internet: www.sandvik.com
E-mail: kent.nordin@sandvik.com