Turning Insert Grades Provide Edge Toughness and Chip Resistance
Press Release Summary: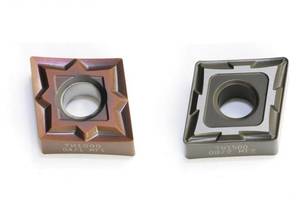 Seco Tool's has expanded its product range with the TH1000 and TH1500 turning insert grades. The TH1000 is applicable in finishing operations and hardened steel cutting. The TH1500 provides finish turning to grey and ductile cast irons and is applicable with low-to-moderate cutting speeds. Both turning insert grades are expected to increase the machining capabilities of Seco Tools.
---
Original Press Release:
Seco Presents Expanded Tool Selection for Turning Challenging Materials at IMTS
TROY, Mich.,September 10, 2018– Seco Tools' full application range of its wear-resistant TH1000 and TH1500 turning insert grades attracted much attention at IMTS 2018.With a significantly increased product line that now includes positive and negative geometries, chip breakers and nose radius sizes, manufacturers can find the optimal turning solutions they need to process hardened steels, superalloys and cast irons as well as further increase their machining capabilities.
With its reliable edge toughness and high chip resistance qualities available across a broader product range, the TH1000 TiSiN-TiAlN nanolaminate PVD-coated grade enables manufacturers to productively tackle a wider variety of ISO H5-H10 applications. The grade maintains long tool life when machining hardened steels–from 50 to 62 HRC–hard surfaced components and complements the TS2000 and CP200 carbide grades and CBN170 grade to form a complete finish machining package for superalloy materials.
TH1000 excels in finishing operations and performing interrupted cuts in hardened steels. With respect to machining superalloys, such as Inconel 718, Waspaloy and Nimonic C263, the grade brings fast cutting speeds to continuous finishing and semi-finishing operations. Furthermore, the latest TH1000 chipbreaker inserts bring optimum chip control and high process security to a broader working range.
The TH1500 grade is perfect for processing hardened steels from 40 to 55 HRC and, through its product expansion, allows manufacturers to excel in an increased number of ISO H10-H15 applications that require high cutting data and continuous-cut operations. TH1500 also provides superior finish turning of grey and ductile cast irons in applications with low-to-moderate cutting speeds.
Furthermore, because of its advanced grade profile, which includes an α-based Al2O3  CVD coating, Ti(C,N) middle layer and a super fine grain substrate, TH1500 makes a great alternative to CBN and ceramic cutting tools in situations that involve machining hardened steel workpieces in unstable conditions. Because of its superior finish turning capabilities in grey and ductile cast iron,TH1500 complements Seco's TK1001 and TK2001 grades.
AboutSeco Tools, LLC
Seco Tools, LLC is a leading provider of metalcutting solutions for milling, turning,holemaking and toolholding. The companyprides itself on building close relationships with customers to effectively understand and address their needs. For more information on the company's products and services, please contact Bob Heery, Seco Tools, LLC, 2805 Bellingham Drive, Troy, Michigan, Tel: 248.528.5451, Email:bob.heery@secotools.com,visit www.secotools.com or follow the company on Twitter at @SecoToolsUS.
More from Agricultural & Farming Products