Turning Insert Grades balance toughness and hardness.
Press Release Summary: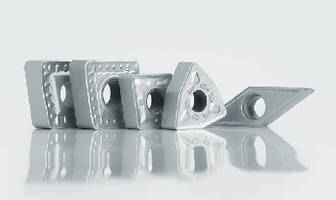 Suitable for machining steel alloys, cast irons, and stainless steels, TP2501, TP1501, and TP0501 with Duratomic Technology combine benefits of advanced aluminum-oxide coatings with specially developed compositions of tools' bulk substrates and cobalt-enriched zones. Modifications of those elements make grades both tough and wear-resistant. Available in broad range of sizes and geometries, inserts also incorporate Edge Intelligence for used-edge detection.
---
Original Press Release:

Seco Unveils Latest Evolution in Revolutionary Duratomic® Technology with Three New Grades for Turning Steel



Company offering free TP grade sample inserts to demonstrate high productivity



TROY, Mich., – With the unveiling of its next-generation Duratomic Technology, Seco Tools, LLC introduces three new turning insert grades that achieve the elusive balance of toughness and hardness when machining steel alloys and other workpiece materials such as cast irons and stainless steels.



The new TP2501, TP1501 and TP0501 represent an evolution and expansion of the Duratomic technology introduced by Seco in 2007,which was the industry's first textured, a-based Al2O3 coating. The Duratomic CVD aluminium-oxide coating process manipulates coating components at an atomic level to achieve improved mechanical and thermal properties and enhance performance.



The TP2501, TP1501 and TP0501 combine the benefits of advanced aluminumoxide coatings with specially developed compositions of the tools' bulk substrates and cobalt-enriched zones. Modifications of those elements make the new grades both tougher and more wear resistant than their predecessors, across the board.



According to Seco, the latest Duratomic technology used in TP2501, TP1501 and TP0501 improves productivity by at least 20 percent in average turning applications as compared with the original TP2500, TP1500 and TP0500 grades.



The company's team effort has made it possible for these new grades to handle a wider range of speeds, allowing manufacturers to apply them to applications requiring higher or lower speeds while maintaining comparable tool life.



In addition to achieving the toughness and hardness balance, the new inserts incorporate Edge Intelligence, an innovative used-edge detection technology. The insert surfaces feature an approximately 0.1µm-thick chrome-colored coating. Black aluminum oxide showing through the chrome-colored coating clearly identifies a used insert edge and allows operators on busy shop floors to easily spot them. Also, key to Edge Intelligence is that its high-contrast used-edge marks do not impact tool performance or machining-related parameters such as cutting data. As a result, manufacturers can process more parts per edge, limit production interruptions and reduce waste.



TP2501, TP1501 and TP0501 are available in a broad range of insert sizes and geometries to accommodate everything from roughing to finishing operations. Plus, the three grades' application areas overlap, resulting in a seamless progression, without gaps, from inserts engineered to reliably handle a wide range of general applications at moderate cutting speeds through tools that permit process optimization with higher parameters.



TP2501 is a versatile grade with highly secure edge toughness behavior that brings dependable productivity and reliable part production to general steel turning applications. It is the preferred grade for operations that involve a variety of workpiece material requirements and unpredictable working conditions.



TP1501 is a general grade with well-balanced properties that make it ideal for applications requiring high wear resistance in low-alloy steel workpieces. Furthermore, the grade offers the potential for higher cutting speeds, while the high reliability and accuracy ensures consistent part quality.



TP0501 is a general grade best suited for stable machining conditions and situations requiring high output. Of the new TP grades, it provides the highest possible wear resistance and/or cutting speeds in high-alloy and abrasive steel turning applications. Furthermore, the extreme heat resistance of the TP0501 makes it possible for users to achieve high metal removal rates without the need for coolant.



For more information on the new TP insert grades and next-generation Duratomic Technology, please visit duratomic.com. Manufacturers can also get a free TP insert sample by visiting www.secotools.com/release1 and answering a few simple questions.



Seco Tools, LLC

Seco Tools, LLC is a leading provider of metalcutting solutions for milling, turning, holemaking and toolholding. The company prides itself on building close relationships with customers to effectively understand and address their needs.



For more information on the company's products and services, please contact Lisa Seidl, Seco Tools, LLC, 2805 Bellingham Drive, Troy, Michigan, Tel: 248.528.5444, Email: lseidl@secotools.com, visit www.secotools.com/us or follow the company on Twitter at @SecoToolsUS.

More from Architectural & Civil Engineering Products