Turning Centers handle complex parts.
Press Release Summary: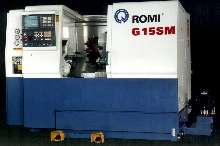 Series G features maximum swing of 16.54 in., maximum turning diameter of 10.23 in., sub-spindle with live tools, and C axis on main and sub-spindles. Rapid traverse rates are 708 ipm on X axis, 945 ipm on Z axis, and 708 ipm on B axis. Servo controlled, hydraulically clamped, 12-station tool turret offers live tool speed range of 3-3,000 rpm. GE Fanuc 18i-T control has 10.4 in. color LCD and full keyboard. PMCIA card slot is mounted on front of LCD unit.
---
Original Press Release:

Romi G 15 Series Tackles High Volumes, Complex Parts


ERLANGER, KY - Romi Machine Tools, Ltd, an industry leader in turning machine technology, has built a reputation providing customer-driven solutions to a broad array of precision turned-part challenges. The G Series - G 15M and G 15SM - turning centers are an integration of CNC lathe and machining center technology in a single machine. The result is a highly flexible solution to today's mixed-volume, short-run, JIT operations, challengingly complex parts, as well as dedicated, high-volume applications

With a swing of 16.54", a maximum turning diameter of 10.23", a sub-spindle with live tools and a C axis on main and sub-spindles, the G 15 Series combines high performance, complex turning and high-volume machining capacity. Rapid traverse rates of 708 ipm (Xaxis), 945 ipm (Zaxis) and 708 ipm (B axis) mean accelerated machine cycle times and reduced non-cut time. Also increasing cycle time is the 12-station, servo controlled, hydraulically clamped, curvic coupling tool turret. Indexing is a fast 0.4 seconds, with a full 180° index taking less than a second.

The G 15's 35° slant bed design features a stress-relieved cast one-piece "L" shaped bed, incorporating solid oversized vee and flat ways, ensuring the ultimate in accuracy over the full life of the machine. Sturdy construction provides superior vibration dampening, greater accuracy as well as longer cutting tool life. Guideway mating surfaces are Turcite-coated and hand-scraped for ultra-precise fitting.

Slides are moved on Romi-manufactured heat-treated and ground ball screws. The double nut design allows the use of two preloaded ball nuts to minimize heat and eliminate backlash. Ballscrews are directly coupled to the servo motor -- no high-maintenance clutches or cog belts - and are supported at both ends for faster traverse rates and higher slide thrust.

The spindle. The G 15 spindle design permits vibration-free full horsepower cuts for routine heavy stock removal using either ultra-precision spindle - the A2-6" for the G 15 STD (standard) and G 15 HT (high torque), and the A2-8" for the G 15 BB (big bore). The main motor and drive system are rated at 15 hp, while the sub-spindle is rated at 7.5 hp and the live tools are driven by a 5 hp motor.

The G 15 STD and HT have a 2.55" through-hole and 2" bar capacity. Through-hole for the G 15 BB is 3.15" with a 2.56" bar capacity. Spindle speeds are: G 15 STD, 5-5,500 rpm; G 15 HT, 4-4,500 rpm; and G 15 BB, 4-4,000 rpm

The sub-spindle. Spindle nose on the G 15 SM STD is A2-4" and A2-5" on the G 15 SM BB. Through-hole diameter is 1.53" and bar capacity is 1.25". Pass-through sub-spindle design allows shafts to be unloaded to the right. Sub-spindle speed range is 6-6,000 rpm.

The tool turret. The 12-station tool turret includes 7 turning holders, 4 ID tool holders with reduction sleeves and 1 facing holder. Square tools are 0.75" x 0.75". Powerful bolt-on live tools, axial (front and back machining) and radial, use ER 25 collets. Up to 12 live tools can be uses; live tool speed range is 3-3,000 rpm.

The G 15's symmetrical spindle housing is thermally isolated from the base, and due to clearance below the spindle, thermal growth is significantly reduced. Romi spindles require no oil recirculation or refrigeration systems, and the spindle bearings are lubricated for life.

The main spindle nose is supported by a double row of cylindrical roller bearings, combined with angular contact ball bearings. A double row of cylindrical roller bearings at the rear completes a spindle design that will offer many years of reliable performance.

All motors, servos and drives are GE Fanuc.

The control. The GE Fanuc 18i-T features the latest technological advancements in a uniquely small space. The 10.4" color LCD and full keyboard conveniently swivel for ease of operation.

The 18i-T moves data at top speed through four cables: power, spindle, servo and I/O. Maintaining high technological standards, the Fanuc Serial Servo Bus (FSSB), connects the CNC to multiple servo amplifiers over a single high-speed, multi-drop, fiber-optic connection for superior electrical noise immunity.

A PCMCIA card slot is mounted on the front of the LCD unit. By simply inserting a memory card, part programs, parameters and ladder logic are easily transferred. The 18i-T can be configured with an Ethernet card for integrated manufacturing solutions and remote routine maintenance and troubleshooting. The DNC2, RS-232 or RS-422 interface makes it easy to connect the CNC to a PC for cell networking and data collection.

Operator-friendly software. The 18i-T is the ideal CNC for operators with varying levels of experience. Ladder creation, display and editing are done right at the control. The macro executor creates canned cycles or measures cycle codes and even supports machining program creation as well as data input/output. Typical features include: canned drilling, turning and rigid tapping cycles, constant surface geometry offsets, tool life management, tool radius compensation, extended part
program editing, part program protection, and more.

Optional PartMaker software provides a low-cost package for off-line programming. Start with simple-to-use 2-axis CAM/Turn and later expand the system to include CAD and/or ConfigPost to customize output files for each CNC machine in the shop.

Turn-Mill software is especially recommended for the G 15 series where C axis programming and sub-spindles add complexity to part programs that makes manual programming difficult. The multiple-face programming system allows complex part surfaces to be broken into sets of planar and rotary surfaces.

For more than 70 years and some 140,000 installations Romi's innovation, reliability, dependability and ease-of-use have set it apart - and ahead - of the competition. Romi's Combination and CNC lathes, turning and machining centers are meticulously built at its eight-plant manufacturing complex in Santa Barbara d'Oeste, Brazil, and are sold and supported in more than 60 countries. From its North American Headquarters in Erlanger, Kentucky, Romi provides an unparalleled degree of training, service and support for all Romi machine tool products.

For more information, contact ROMI Machine Tools, Ltd; 1845 Airport Exchange Blvd.; Erlanger, KY 41018. Tel: 859/647-7566. Fax: 859/647-9122. Toll Free US & Canada: 1-877-ROMIUSA. www.romiusa.com. e-mail: sales@romiusa.

More from Mechanical Power Transmission