Turning Centers deliver enhanced operation via software.
Press Release Summary: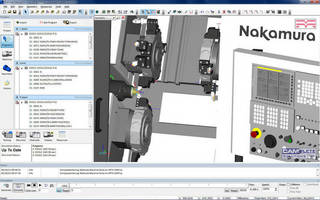 Nakamura-Tome Multitasking Turning Centers are available with CAMplete TruePath Turn/Mill software, which provides G-Code editing, optimization, analysis, and verification tools. Enabling range of turn/mill functions, software delivers full Simulation of Nakamura turning centers and programs as well as tooling and workholding libraries. Capabilities for G-Code editing and verification, reorder and move operations, as well as toal machine motion monitoring are standard.
---
Original Press Release:

Methods Introduces Camplete Turn / Mill Software on Nakamura Multitasking Machines



Sudbury, MA, U.S.A. - Methods Machine Tools, Inc. (Sudbury, MA), a leading supplier of innovative precision machine tools, is introducing CAMplete TruePath Turn / Mill software on Nakamura-Tome Multitasking Turning Centers. CAMplete Turn / Mill software is an integrated suite of G-Code editing, optimization, analysis and verification tools, enabling a full range of turn/ mill functions.

"The new CAMplete Turn / Mill software on our Nakamura lathes offers an enhanced multitasking solution. We have worked closely with CAMplete to bring our customers to an entirely new level of machining productivity." said Mr. Richard Parenteau, Director of Application Development at Methods Machine Tools Inc.

New CAMplete Turn / Mill software was developed to create a program that could combine G-Code from CAM systems and hand-coded G-Code into a set of programs that could be simulated, fine-tuned and optimized using detailed 3-D Nakamura machine models. CAMplete Turn / Mill software includes the following features / functions:

Simulation

Full Simulation of Nakamura Turning Centers and Programs.

Detailed Tooling and Workholding Libraries.

G-Code Editing

Editor Allows Modification of Posted or Unposted Data.

Changes Automatically Update to Both Toolpath and G-Code.

Optimization

Wait Code Editing

Reorder and Move Operations

Fine Tune and Optimize to Simplify Multitasking.

Analysis

Monitors All Aspects of Machine Motion: True Cutting Speeds, Axis Velocity and Acceleration, and Motion Deviations.

Verification

G-Code is verified

Verification of Machine, Tooling, and Workholding Using Detailed Nakamura Machine Models.

Methods Machine Tools, Inc. has been a leading supplier of precision machine tools, automation and accessories for over 50 years, providing extensive applications engineering support, installation, parts, service, and training through a network of large state-of-the-art technology centers and dealers throughout North America. Methods is the exclusive U.S. and Mexico importer of Nakamura-Tome machines.

For more information, please contact Methods at 65 Union Avenue, Sudbury, MA 01776, TEL: (978) 443-5388, FAX: (978) 440-9405, Email: sales@methodsmachine.com or visit their website at www.methodsmachine.com.

More from Software