Turning Center suits metalworking manufacturers.
Press Release Summary: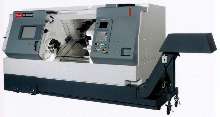 Quick Turn Nexus 350 has one 12 in. chuck, 680 mm max swing, 30 kW spindle output, and 3,300 rpm maximum spindle speed. With turret indexing time of 0.2 sec/position, product features servo-driven, programmable, NC electric tailstock and headstock with built-in spindle/motor. Tool Eye presetting arm automatically performs offset of tool nose position, tool measurement, and data registration. Tool Eye also updates and constantly monitors tool wear.
---
Original Press Release:

QT Nexus 350 Redefines Turning Center Productivity and Value


(FLORENCE, KY) - The Quick Turn (QT) Nexus 350 from Mazak Corp. (Florence, KY) is a totally new version of the world's most widely used turning center, accomplishing new levels of speed, precision, and efficiency, making it an outstanding value for the investment. It is part of the new Nexus series of machine tools from Mazak, focused on providing advanced technology, increased productivity, and outstanding value for metalworking manufacturers.

The QT Nexus 350 has a 12-in. chuck, 680-mm maximum swing, 30 kW spindle output and 3300 rpm maximum spindle speed. Turret indexing time of 0.2 seconds per position minimizes idle time, increasing productivity. The QT Nexus 350 also can use all existing SQT 350 tools.

The headstock features a new advanced built-in spindle/motor capable of handling heavy-duty cutting at low speed and high-speed turning of aluminum and other nonferrous materials. A fully programmable NC electric tailstock, driven by a servo motor, reduces setup time by 90% over a manual type, as no manual adjustment is necessary, even when changing workpiece length.

An all-new bed design delivers 40% more rigidity than previous models. With the spindle on the QT Nexus 350 being 10.5 in. shorter than on previous turning centers, this reduces deflection 85%. Better surface finish and improved part cylindricity are the results.

Another benefit of the QT Nexus 350 is the Tool Eye automatic presetting arm, part of the machine's standard list of features. Simply bring the tool tip into contact with the Tool Eye, and offset of tool nose position, tool measurement, and data registration are performed automatically, ensuring accuracy and reducing setup time. The Tool Eye also updates and constantly monitors tool wear.

Manufactured and assembled in Florence, KY, the Nexus series is the first line of Mazak's global machines, meaning they are also built in Mazak's Japan, United Kingdom, and Singapore facilities using Mazak's Production on Demand system to further accelerate final assembly and delivery.

Mazak is a world leader in machine tool technology. From advanced multi-tasking machine tools, vertical and horizontal machining centers and turning centers to fully automated Palletech Manufacturing Cells, Mazak-engineered developments provide customers tangible value-added benefits and the most productive machine tools available. Application assistance from 10 regional Mazak Tech Centers is always accessible. For more information, contact the Mazak Corporation at (859) 342-1700 or visit the Mazak website at www.mazak.com.

More from Machinery & Machining Tools