Turning Center has 60 degree slant bed.
Press Release Summary: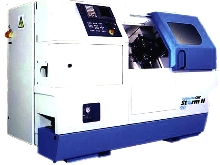 Storm II 90 turning center is thermally and dynamically insulated, and includes Fanuc CNC control, digital spindle and axis drives. 12-position turret with VDI 30 tooling is standard, plus spindle can be ordered with 4000 or 6000 rpm. Machine includes fittings for chuck sizes up to 8 in. Optional barfeed system is operated and controlled directly from Fanuc control.
---
Original Press Release:
ColchesterCNC's Storm II 90 Turning Center Rains Precision, Power, and Unbeatable Price on the U.S. Market

CINCINNATI-Designed and built by the largest, most trusted lathe builder in Europe, the ColchesterCNC Storm II 90 brings a precise, affordable, reliable, value-packed slant bed CNC lathe to the United States machine tool market.

The Storm II 90's innovative construction features a thermally and dynamically insulated production machine, with a massive 60-degree slant bed. Since the Storm II 90 is 20 percent heavier than most machines in its class, it enables improved part cutting while the advanced spindle drive train maintains power where it is needed-at the cutting face. The latest Fanuc CNC control, digital spindle, and axis drives are integrated into the
Storm II 90 to deliver the ultimate in machine reliability. ColchesterCNC's unique 12-position, high-speed turret with VDI 30 tooling is standard, plus the spindle can be ordered with 4000 or 6000 rpm. These and other features have already delivered
increased productivity and versatility for ColchesterCNC's customers.

"The Storm produces good accurate parts throughout the day without much attention," says Jim Hamann, President of H.B. Products. The Chicago company purchased its first Storm II 90 in November 2000 and has since been using the machine to manufacture its TURBOSOCKET(TM), a specialty socket for removing stripped nuts. Mr. Hamann says the success with their first machine motivated them to install a second machine in January
2002.

"The machine is reliable, it's easy to set up, and it's easy to clean at the end of the day," Mr. Hamann says. "We're very happy with the results and the value it's delivered."

Additional features on the Storm II 90 include fittings for chuck sizes up to 8 inches. An optional Storm Magazine barfeed system provides new standards of performance for low-cost automation and is operated as well as controlled directly from the machine's Fanuc control. Adding the power efficiency package frees up operators and even enables companies to run an unmanned "second shift." The power efficiency package includes the integrated barfeed unit; 15 HP; spindle orientation; integrated parts catcher; collet chuck; a 3-jaw, 6-inch chuck; chip conveyor; tool setter; plus tool life monitoring and production scheduling software

The ColchesterCNC Storm II 90 sets a benchmark for quality and cost effectiveness. It ispart of the Colchester series of turning centers that has rapidly become Europe's best selling range of CNC slant bed lathes. The Storm II 90's matchless combination of productivity and quality are underscored by its sheer value for the money.

ColchesterCNC is the American division of the famous Colchester Lathe Company/600 Group, based in the United Kingdom. ColchesterCNC is dedicated to supplying high-value, cost-effective CNC equipment to small- to medium-size chip-cutting companies.
Related