Turning Center accommodates larger parts.
Press Release Summary: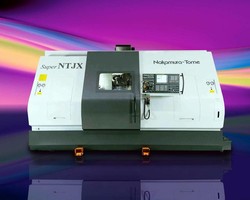 Super NTJX multitasking turning center incorporates Fanuc 31iA CNC control and features more than 12 milling/turning combinations through 2 spindle motors. Generating 34.9 hp (8000 rpm) and 24.8 hp (6000 rpm) on left and right spindles, NTJX is capable of synchronized shaft/work turning with turning dia of 9.65 in.,turning length of 42.91 in., and bar capacity of 2 in. Forty-station servo-driven ATC provides 1.3 sec tool changes (tool-to-tool).
---
Original Press Release:

New ATC Turning/Milling Center Accommodates Larger Parts



New ATC Turning/Milling Center Accommodates Larger Parts

SUDBURY, MA - Combining turning and milling capabilities, the new Super NTJX multitasking turning center from Nakamura-Tome significantly outperforms single-tool multitasking machines, virtually eliminating lost productivity due to tool changes. With Y axes on both the upper and lower turrets, the Super NTJX is ideal for parts with angular faces, and its long-stroke upper Y Axis easily accommodates larger parts. It has milling/drilling capability (including Y-axis machining) on both upper and lower turrets, and a B-Axis tool spindle with 40-station ATC. With more than a dozen left/right-top/bottom-milling/turning combinations, the Super NTJX permits 100% stock-on conditions and allows unparalleled flexibility to optimize process machining and minimize part cycle times.
A maximum of 34.9/24.8 HP is available for synchronized shaft/work turning with two spindle motors (Left: 20.1/14.8 HP, 8000 RPM; and Right: 14.8/10.1 HP, 6000 RPM). The NTJX has a maximum turning diameter of 9.65" (245 mm), a maximum turning length of 42.91" (1090 mm), and bar capacity of 2"(51 mm). Machining may be performed using the upper B-Axis tool spindle or with lower turret driven tools. With a Y-Axis stroke of 5.5" (140 mm) and a B-Axis positioning range of 230°, the 10/5 HP 8000 RPM tool spindle is ideal for larger parts. A 40-station servo-driven ATC provides 1.3 second tool changes (tool-to-tool). The 7.4/5 HP 6000 RPM driven lower turret accommodates 12 rotating or 24 fixed tools and has a Y-Axis stroke of 2.75" (70 mm). The Super NTJX's footprint is approximately 186"W x 115"D.
The Super NTJX features the Fanuc 31iA CNC control with nanometer resolution for smooth movement and improved accuracy. Overload detection and NT Nurse programming/monitoring software are also standard, as is NT Work Navigator (torque-type) software, which further reduces costs by eliminating the need for positioning jigs and fixtures.
A leading supplier of precision machine tools and accessories for over 45 years, Methods Machine Tools, Inc., is the exclusive North American source for Nakamura-Tome turning centers, providing installation, applications support, training, parts, and service through a nationwide network of dealers.
For more information, contact: Scott McIver, Vice President, Methods Machine Tools, Inc., 65 Union Avenue,Sudbury, MA 01776, TEL: (978) 443-5388, FAX: (978) 440-9405, methodsmachine.com.Methods Machine Tools, Inc.
65 Union Avenue
Sudbury, MA 01776
Contact: Scott McIver,
Vice President
TEL: (978) 443-5388
FAX: (978) 440-9405

From: Norris & Company
960 Turnpike Street,
Canton, MA 02021
John R. Norris,
Account Executive
TEL: (781) 821-8300
FAX: (781) 821-8301
www.methodsmachine.com

More from Controls & Controllers