Turbopump has small, rectangular body.
Press Release Summary: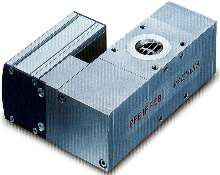 Designed for use in portable, battery-powered, or compact analytical instruments, CompactTurbo TPD 011 measures 2.5 x 2.5 x 6.7 in. With pumping speed of 10 L/s for Nitrogen and pressure rating of 5 x 10-5 mbar, pump is operated via RS485 interface through control unit or PC. When combined with small rotary vane or diaphragm pump, unit completes total vacuum package. CompactTurbo TPD 011 includes TC 100 drive system.
---
Original Press Release:
Pfeiffer Vacuum Introduces the CompactTurbo TPD 011 - The Smallest Turbopump in the World
Nashua, New Hampshire - Pfeiffer Vacuum, one of the worlds leading producers of vacuum products and services introduces the CompactTurbo TPD 011, the smallest and most compact turbopump available. The CompactTurbo pump is designed for use in portable, battery-powered or compact analytical instruments. Its small, unique rectangular shape permits easy installation and when combined with a small rotary vane or diaphragm pump makes for a compact, total vacuum package. The CompactTurbo TPD 011 weighs only 5 pounds and measures 2.5" x 2.5" x 6.7". With a pumping speed of 10 l/s for Nitrogen and an ultimate pressure of 5xl0-5 mbar, the TPD 011 pump delivers superior performance. A proven bearing design makes the pump highly reliable, yet rugged and safe. The CompactTurbo's all-new drive system, the TC 100, is 70% smaller than competitive models. The pump is operated via a RS485 interface through a control unit or PC. Pfeiffer Vacuum, Inc., develops, produces and markets key components for vacuum technology used in semiconductor fabrication, optical and thin film disposition, such as flat panel displays and TV monitors, analytical instrumentation, high energy physics and research and development. Pfeiffer Vacuum offers an extensive range of vacuum pumps, vacuum gauges, leak detectors, mass spectrometers and accessories such as valves, fittings and flanges. The company is ISO certified. Pfeiffer Vacuum North American operations offer marketing, sales, field services, repair, customer training, and applications and support. Sales and support functions are located throughout the U.S. For further information, contact: Mike Sears, Analytical Market Segment Manager, at Pfeiffer Vacuum Inc., 24 Trafalgar Square, Nashua, NH 03063-1988; Phone 603-578-6500: Fax 603-578-6550. Web site: pfeiffer-vacuum.com; Email: msears@pfeiffer-vacuum.com
More from HVAC