Turbochargers come in super core configuration.
Press Release Summary: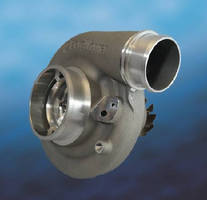 Available to aftermarket, AirWerks® S200SX-E and S300SX-E are supplied without turbine housings, offering inventory flexibility and assembly options. Units feature forged milled compressor wheels and pre-machined speed sensor and boost ports. Additionally, S300SX-E is equipped with 360° thrust bearing for optimized thrust capability. AirWerks S200SX-E super cores are available in 52 mm and 57 mm inducer sizes, while S300SX-E models come in 6 added sizes from 61.4–69 mm.
---
Original Press Release:

BorgWarner's New Additions to Its AirWerks® Series Now Available to the Aftermarket



Engineered for Performance Car and Truck Enthusiasts, BorgWarner Adds Eight Enhanced Super Cores to its Successful Series



AUBURN HILLS, Mich.,  -- BorgWarner has expanded its line of AirWerks(®) series turbochargers with eight enhanced models, designated by the "-E" in the model name. Two new S200SX-E and six new S300SX-E super core configurations (turbochargers without turbine housings) are now available to the aftermarket through authorized performance turbocharger distributors. Engineered for car and truck enthusiasts, these high-performance units feature forged milled compressor wheels, and pre-machined speed sensor and boost ports. Additionally, the S300SX-E sports a 360-degree thrust bearing for improved thrust capability and reliability. Delivering up to a 3 percent increase in compressor efficiency and up to 25 percent more flow within the same frame size, these new AirWerks super cores offer a significant increase in performance and resulting power. The SX-E units are sold in a super core configuration, giving the performance distributor optimum inventory flexibility and assembly options. Companion SX series turbine housings are sold separately.



"BorgWarner is expanding our successful AirWerks series to add more performance options for car and truck enthusiasts," said Frederic Lissalde, President and General Manager, BorgWarner Turbo Systems. "Many of the new features have been proven on our premium EFR(TM) (Engineered For Racing) turbochargers, the official turbocharger of the INDYCAR Series for several years. Customers will appreciate the powerful boost and reliability as well as more opportunities for convenient customization."



BorgWarner's AirWerks series offers a customizable replacement turbocharger for applications where ancillary items such as blow-off valves and external wastegates are already configured and are in-field serviceable. Compressor wheels are forged prior to milling for added strength and durability. By reducing inertia and increasing air flow, BorgWarner's extended tip technology enables the compressor wheel to perform like a larger, heavier wheel and deliver faster spool-up with more powerful boost. In addition, pre-machined speed sensor and boost port bosses allow users to fine-tune their set up, reducing additional fabrication costs. Compressor inlet and outlet connections are designed to conveniently fit standard filters and hoses.



The new AirWerks S200SX-E super cores are available in 52 mm and 57 mm inducer sizes. The S300SX-E super cores are available in six new sizes from 61.4 mm to 69 mm. Featuring flexible dual outlet machining for a V-band or hose connection, S300SX-E super cores also offer a 360-degree thrust bearing upgrade for improved thrust capability and longer turbocharger life. For more information, visit borgwarnerboosted.com.



About BorgWarner

BorgWarner Inc. (NYSE: BWA) is a product leader in highly engineered components and systems for powertrains around the world. Operating manufacturing and technical facilities in 57 locations in 18 countries, the company delivers innovative powertrain solutions to improve fuel economy, reduce emissions and enhance performance. For more information, please visit borgwarner.com.



BorgWarner's expanded line of AirWerks(®) series turbochargers--including two new S200SX-E and six new S300SX-E super core configurations (turbochargers without turbine housings)--deliver a significant increase in performance plus opportunities for convenient customization.



CONTACT: Katya Pruett, 248.754.0550



Web Site: http://www.borgwarner.com

More from Electrical Equipment & Systems