Turbo Pumps handle heavy particulate loads.
Press Release Summary: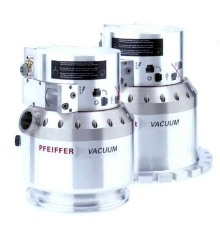 Turbo Pumps feature combination of pumping speeds from 1,200-2,100 l/s and throughput up to 2 slpm. Rotor/bearing design ensures MTBF better than 200,000 hours. Suited for harsh duty applications, pumps are designed to operate safely even after sudden stops. All utilize integrated controller with interchangeable peripherals and cables, and are available with IP54-rated integrated power supplies in range of configurations.
---
Original Press Release:

Pfeiffer Vacuum's Introduces High Capacity, High Throughput Turbo Pumps


Pfeiffer Vacuum, one of the world's leading producers of vacuum products and services, introduces the most reliable, high capacity, high throughput turbo pumps designed for high particulate processes in the semiconductor, glass, industrial coating as well as R&D applications. These turbo pumps feature a combination of pumping speeds from 1200 to 2100 1/s and throughput up to 2 standard liters per minute. The proven rotor/bearing design provides superior reliability with MTBF better than 200,000 hours. Pfeiffer's turbo pumps are designed and tested to operate safely even after sudden stops.

Designed for harsh duty applications with heavy particulate loads, Pfieffer Vacuum's turbo pumps contain a unique combination of high pumping speed for light gases and high throughput for heavy gases. All pumps utilize the same integrated controller with interchangeable peripherals and cables and are available with IP54 rated integrated power supplies in a wide range of configurations.

Pfeiffer Vacuum, Inc., develops, produces and markets key components for vacuum technology used in semiconductor fabrication, optical and thin film deposition, such as flat panel displays and TV monitors, analytical instrumentation, high energy physics, and research and development. Pfeiffer Vacuum offers an extensive range of vacuum pumps, vacuum gauges, leak detectors, mass spectrometers, and accessories such as valves, fittings and flanges. Pfeiffer Vacuum North American operations offer marketing, sales, field services, repair, customer training, and applications and support. Sales and support functions are located throughout the U.S. with a major customer support center in Milpitas, California, in the heart of the semiconductor industry.

For further information, contact: Philip Tremblay, Product Manager, Pfeiffer Vacuum, Inc., 24 Trafalgar Square, Nashua, NH 03063-1988; Phone 603-578-6500; Fax 603-578-6550. Web site: pfeiffer-vacuum.com; E-Mail: ptremblay@pfeiffer-vacuum.com