Miscellaneous Cleaning Equipment
Turbine Engine Washer aids helicopter, aircraft maintenance.
Press Release Summary: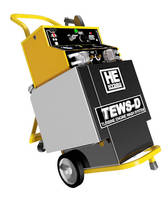 Targeting commercial aviation industry, TEWS-D enables anytime/anywhere aircraft cleaning. Compact design is powered by rechargeable battery, and adapters enable cleaning of various turbine engine types. Features include direct proportion mixing of gas path cleaners, direct injection of alcohol for freeze protection, as well as distilled water for engine washes. Functionality helps counteract harsh effects of corrosion in desert and salt water environments.
---
Original Press Release:

Introducing the All New TEWS-D for Helicopter and Aircraft Maintenance



For over thirty years, Hydro Engineering, Inc. has provided thousands of Aircraft Wash Systems around the world. These AWS have proven to be an integral part of not only keeping the United States Armed Forces' aircraft combat ready, but also keeping commercial and private aircraft performing at peak capacity.



The development of the first AWS was targeted for aircraft and helicopter corrosion control with the US military in order to counteract the harsh affects of corrosion in both desert and salt water environments. With constant exposure to wind, dirt, dust, and salt water, the AWS helps to perform critical airframe washes and with the portability of the AWS, aircraft re-positioning is not required. The AWS is fully self contained and moves where and when washing is required.



With turbine engine washing becoming a required procedure, the US military authorized Hydro's TEWS-C to replace the antiquated Universal Wash System and now supports the TEWS through its A-92 aviation unit maintenance shop set. Over the years, The TEWS system has been refined and redesigned to produce four very distinct systems to suit any need. The TEWS-DST has all of the same features as the standard TEWS-C, but with the added benefit of a trailer mounted unit that introduced larger fluid storage tanks and gave users the advantage of washing multiple engines simultaneously. Hydro's Advanced Total Aircraft Wash System, ATAWS, is the perfect marriage of both the AWS and the TEWS giving the user the ability to not only wash the engines, but also the fuselage all at the same time.



Now, Hydro Engineering Inc. has developed a TEWS for the commercial aviation industry. The all new TEWS-D is compact in design and utilizes a battery to power the system with recharging capabilities. New technology additions include: direct proportion mixing of gas path cleaners, direct injection of alcohol for freeze protection, introduction of distilled water for engine washes and a variety of engine adapters allowing for a multitude of engines to be cleaned via the TEWS-D. This all new product line gives the user ultimate control of cleaning aircraft when ever and where ever it is needed.



Contact the experts at hydroblaster.com to see how Hydro can improve the helicopter and aircraft maintenance processes today.

More from Cleaning Products & Equipment