Turbidity Sensor performs laboratory-quality measurements.
Press Release Summary: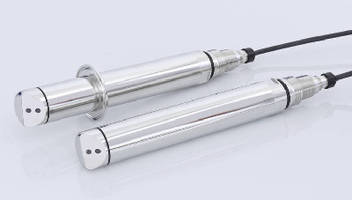 Suitable for process water filtration and other industrial process turbidity conditions, Turbimax CUS52D measures turbidity from 0.000–4000 NTU with accuracy of 2% of measurement ±0.01 NTU at process temperatures from -4 to 185°F with detection limit of 0.0015 NTU. Sensor uses 90° light scattering principle in accordance with ISO 7027 standard. Available in immersion, flow cell, and inline versions, Turbimax CUS52D has hygienic design and operates at pressures up to 145 psi.
---
Original Press Release:

Endress+Hauser Introduces Turbimax CUS52D Turbidity Sensor



Turbidity sensor provides fast, laboratory-quality measurements in real-time for the entire water purification process and many other process applications. Its hygienic design also makes it suitable for applications in food and beverage.



Endress+Hauser introduces the Turbimax CUS52D turbidity sensor for process water filtration and other industrial process turbidity conditions. The Turbimax CUS52D performs laboratory-quality turbidity measurements without the need for extensive bypass installations, avoiding costly product or water losses.



The sensor measures turbidity from 0.000 to 4000 NTU with accuracy of 2% of measurement ±0.01 NTU at process temperatures from -4 to 185 °F with a detection limit of 0.0015 NTU.  The sensor measures turbidity in accordance with ISO 7027.



The Turbimax CUS52D's surface minimizes the build-up of biofilms and particulates. The ability to operate at high pressures (up to 145 psi) makes suppressing air bubbles possible. For bypass operation an optional air bubble trap catches smaller air bubbles. In particularly challenging cases, the CYR52 ultrasonic cleaning system can be installed on a flow cell or even right on the existing pipe to prevent and remove surface contamination and bubbles without direct product contact.



The Turbimax CUS52D is available in immersion, flow cell and in-line versions. The immersion model can be installed in open channels and basins, while the stainless steel hygienic in-line model can be inserted directly into pipes. The Turbimax CUS52D can be used at the raw water inlet of any plant and the outlet of process filtration and clarification. The Turbimax CUS52D is well suited to filter monitoring, filter backwashing and all stages of industrial water purification.  With available 2" triclamp the CUS52D is also well adapted to hygienic food and beverage processes in brewing, spirits, soft drink, dairy and others. Its fast response time of less than 1 second means it can also perform very well as a primary process variable (PV) in control applications.



The sensor uses the 90° light scattering principle in accordance with the ISO 7027 standard. The optical signals from the sensor are continuously monitored and tested for plausibility. In the case of discrepancies, an error message is sent via the transmitter.



A smart solid state reference for the Turbimax CUS52D allows the sensor to be verified and calibrated before insertion into the process without the use of liquid standards. As a result, neither employees nor processes come into contact with any harmful liquid standards such as Formazin, which are typically used for field calibration. The solid state references are matched to each sensor for maximum calibration accuracy, are simple to use, and provide consistent, reliable and clear results.



For more detailed technical information on the Turbimax CUS52D turbidity sensor please go to the product page at: www.us.endress.com/cus52d.



About Endress+Hauser

Endress+Hauser is one of the largest instrument manufacturers in the United States' industrial automation industry – specializing in automation solutions for the Chemical, Food & Beverage, Oil & Gas, Water and Wastewater, Life Sciences, Power and Energy, Primaries, and Pulp and Paper Industries.  Endress+Hauser, a Switzerland based company, first began operations in the U.S. in 1970.  Since that time, Endress+Hauser has continued to invest in its U.S. operations - investing an average of 10% of its annual revenue into its infrastructure.

For more information, please visit www.us.endress.com.



Contact:

Crystal Hunt

Senior Public Relations Manager

Endress+Hauser, Inc.

Office: 317-535-1306

Mobile: 317-439-6426

Fax: 317-535-2171



[email protected]

 

www.us.endress.com