Turbidimeter takes measurements in lab or field.
Press Release Summary: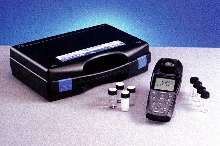 AQUAfast® AQ4500 offers dual light sources that allow reading to comply with EPA 180.1 and ISO 7027. Measurements range from 0-1000 NTU with choice of units including NTU, FTU, FNU, ASBC, and EBC. Datalog capacity is 100 points, which can later be downloaded to printer or computer. Typical battery life is over 1000 hrs. AQ4500 is IP67 waterproof and is correlated with on-line turbidity instruments.
---
Original Press Release:

Thermo Orion Introduces the New AQUAfast® AQ4500 Turbidimeter Products for Low Level Turbidity Readings


BEVERLY, Mass. (February 5, 2003) - Thermo Orion, a Thermo Electron business (NYSE:TMO) and leader in the development and manufacturing of chemical measurement product lines, introduces the new AQUAfast AQ4500 Turibidimeter product, ideal for both lab and field measurements.

The Thermo Orion AQUAfast AQ4500 Turbidimeter is the most advanced measurement system on the market today with features beyond the competition. Ideal for use in either the lab or the field, the AQUAfast AQ4500 offers dual light sources that allow readings to comply with either EPA 180.1 or ISO 7027. Measurements can range from 0 - 1000 NTU with a choice of units: NTU, FTU, FNU, ASBC, and EBC. The Thermo Orion AQUAfast AQ4500 conforms with the American Society of Brewing Chemists and European Brewing Chemists. It also complies with the EPA GLI method 2, in the range of 0 - 40 NTU. The AQUAfast AQ4500 has a datalog capacity of 100 points, which can later be downloaded to a printer or computer and typical battery life of over 1000 hours. The Thermo Orion AQ4500 is truly IP67 waterproof and has excellent correlation with on-line turbidity instruments.

Thermo Orion is an ISO 9001-registered manufacturer of quality chemical measurement products. Thermo Orion's line of products includes pH, ion selective electrode (ISE), colorimeters, conductivity and dissolved oxygen meter, electrodes, accessories, and solutions. Thermo Orion also offers a complete line of syringe pumps, microbalances, titrators and Pure Water(TM) online process monitors. Most recently, the company expanded its already extensive product offering to include a complete line of liquid-handling systems, autosampler, the award-winning EZ-Flash® gas chromatography accessory, and the TEA Analyzers detector for HPLC and GC. These systems prove that Thermo Orion is committed to providing the best instrumentation for a wide array of laboratory analyses.

About Thermo Electron Corporation:
Thermo Electron Corporation provides scientific instruments, equipment, software, and solutions that help laboratory and industrial customers advance scientific knowledge, enable drug discovery, improve manufacturing processes, and protect people and the environment. With annual revenue exceeding $2 billion, Thermo is a global leader employing 11,0000 people in 30 countries worldwide. The company is based in Waltham, Massachusetts.

More from Architectural & Civil Engineering Products