Turbidimeter suits municipal and industrial applications.
Press Release Summary: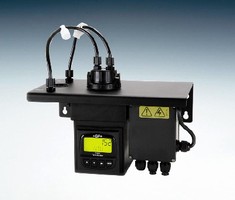 Available in 0-100 and 0-1,000 NTU versions, Signet 4150 Turbidimeter provides water quality monitoring that is compliant to U.S. EPA 180.1. Continuous on-line measurement is accomplished through 90° light, which reflects particles as they flow through cuvette. By adjusting built-in backpressure valve, bubbles that may cause reading errors can be eliminated. Meter includes integral pressure regulator, 4-20 mA output signal, 2 programmable alarm relays, and backlit display.
---
Original Press Release:

GF Piping Systems Expands Analytical Instrumentation Line



New Signet Turbidimeter Featuring Quick and Easy Calibration

TUSTIN, Calif. - Oct. 7, 2008 - GF Piping Systems has added the new Signet 4150 Turbidimeter to its extensive line of analytical instrumentation. The new meter provides accurate and reliable water quality monitoring that is compliant to U.S. EPA 180.1, making it ideal for both municipal and industrial applications. With its integral pressure regulator, the 4150 features easy one-unit installation and setup. Typical uses include monitoring for potable water distribution, raw or filtered water, wastewater effluent, and aquatic life support.

Turbidity measurement on the 4150 is accomplished through a 90 degree light which reflects particles as they flow through the cuvette, providing continuous and accurate on-line measurement. The unit's replaceable desiccant pack assures a stable environment for accurate measurement and a built-in backpressure valve can be adjusted to eliminate bubbles that may cause reading errors. Available in two measurement ranges, the 0-100 NTU version is intended for low range applications such as potable water. The second, 0-1000 NTU version, can be used for higher range applications such as raw water and wastewater.

Without the need for tubing disconnection, calibration can be completed easily in less than five minutes. The inexpensive calibration standard allows for both dry and multiple system calibrations without chemical mixing. After calibration, the 4150 is instantly back on line once the glass cuvette is placed into the measuring chamber.

"What our Turbidimeter offers that others on the market do not is the capability for multiple instrumentation calibration with the same kit, making it much more affordable," points out Dave Vollaire, GF Piping Systems Product Manager.

"And, by not having to take the unit offline for calibration, there is no delay, providing additional time and cost-saving efficiencies."

Other features of the 4150 include a desiccant replacement and cleaning required indicator, a fully programmable 4-20 mA output signal, two programmable alarm relays, and a bright backlit display for easy reading. An ultrasonic cleaning option provides for accurate and extended on-line measurement.

GF Piping Systems supplies a full range of plastic pipe, fittings, tubing, valves, actuators, rotameters, fusion machines, secondary containment, tank linings, heat exchangers, custom products, and sensors and instrumentation for industrial process control. For further information, please contact GF Piping Systems., 2882 Dow Avenue, Tustin, CA 92780-7258; Toll Free (800) 854-4090, Fax (714) 731-6201; e-mail: us.ps@georgfischer.com; Web: www.gfpiping.com

GF Piping Systems

Dave Vollaire

Phone (714) 731-8800

dave.vollaire@georgfischer.com

More from Electronic Components & Devices