Tuning Sensor provides centralized monitoring.
Press Release Summary: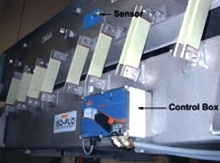 ITS(TM) (Integrated Tuning System) option designed for Iso-Flo® vibratory equipment self-monitors conveyor's tuning, reports status, and can alert processor in event of process changes. System provides information on subtle process changes that could negatively impact conveyor and processing line performance. ITS communicates directly with variable frequency drive to automatically adjust speed to keep conveyor in tune.
---
Original Press Release:

New Its(R) Enhancements Increase Intelligence of Key's Iso-Flo(R) Technology


Key Technology announces new enhancements to the ITS(tm) (Integrated Tuning System) an option designed exclusively for Iso-Flo(r) vibratory equipment. ITS is a product within Key's line of Smart-Shaker(tm) Technology options that help processors operate more efficiently, reliably, and profitably.

With sensors connected to individual Iso-Flos or on those at critical process points, ITS transforms an Iso-Flo from a proven, reliable "workhorse" into an intelligent machine. ITS self-monitors the conveyor's tuning, reports status at a glance, and - with optional visual or audible alarms, or linked to the central control system - alerts the processor in the event of process changes. The ITS sensors detect more varied and subtle deviations, earlier and more objectively than is possible with standard walk-through observation.

The new ITS takes processors beyond simply monitoring performance to predicting maintenance needs. ITS provides information that helps processors see subtle process changes - which could negatively impact the performance of their conveyor and processing line - reducing costly down time and unnecessary wear on equipment parts.

The new ITS communicates directly with the variable frequency drive, to monitor and automatically adjust speed up or down to keep the conveyor in tune, further extending the life of an Iso-Flo unit.

The ITS option allows processors to centrally locate equipment monitoring, and to identify potential problems with only a glance. ITS can now be connected directly to a plant's computer network, allowing management to monitor a conveyor's performance from any workstation on which the ITS software utility is loaded.

Processors can monitor individual Iso-Flo units and tailor maintenance routines to meet each unit's unique needs instead of applying a boilerplate maintenance plan to all conveyors and risk replacing parts unnecessarily. The software also monitors multiple units at once so processors can evaluate the entire line's performance.

Processors can also monitor performance directly from the control box, which features a new transparent cover. It installs quickly, either on the Iso-Flo itself or nearby, and operates in very wide range of temperature and humidity conditions. The unit is provided with a NEMA 4X enclosure.

ITS may be installed quickly and easily by factory personnel or may be included standard on new Iso-Flo purchases. This option quickly repays investment costs by ensuring proper Iso-Flo tuning and set-up, saving on parts and maintenance, reducing unplanned downtime, and extending the life of the equipment. ITS itself requires no routine maintenance.

Key Technology, an ISO-9001 certified company, is a leading designer and manufacturer of process automation systems, integrated electro-optical inspection and sorting systems, and processing systems. Key(r) systems help processors to improve quality, increase yield, and reduce cost. With worldwide sales representation, the company maintains demonstration and testing facilities at its headquarters and manufacturing divisions in Walla Walla, Washington, USA, and at Key Technology BV in Beusichem, the Netherlands. The company's common stock trades on the Nasdaq National Market tier of The NASDAQ Stock MarketSM under the symbol: KTEC.

More from Printing & Duplicating Equipment