Welding Rods, Wire and Electrodes
Tungsten Electrodes meet demanding TIG welding applications.
Press Release Summary: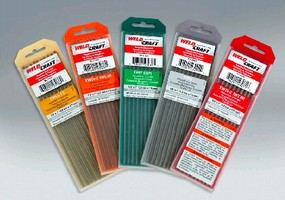 Available in 7 in. lengths, Tungsten Electrodes come in industry standard diameters of 0.40, 1/16, 3/32, 1/8, and 5/32 in. Five types are offered, including pure, 2% ceriated, 2% thoriated, 1.5% lanthanum, and rare earth.
---
Original Press Release:
Weldcraft Offers Extensive Premium Tungsten Line for Precision TIG Welding Applications
-Available in five tungsten types -Offered in industry standard diameters -Highest quality tungsten in the industry APPLETON, Wis. January 4, 2006-Today, Weldcraft, a leading manufacturer of TIG welding torches and components, announced their decision to offer an extensive line of tungsten. To ensure customers have a wide range of choices, Weldcraft will offer five types of tungsten: pure, 2% ceriated, 2% thoriated, 1.5% lanthanum and rare earth. Each type of tungsten will be available in 7-inch lengths in industry standard diameters of 0.40-, 1/16-, 3/32-, 1/8- and 5/32-inches. Commitment To Quality, Customers Weldcraft's new line of premium tungsten meets even the most demanding of TIG welding applications. Weldcraft evaluated multiple sources to find the highest quality tungsten in the industry. According to Mike Sammons, sales and marketing manager, Weldcraft, "We are excited to be able to provide our customers with this new product offering. Our commitment to supply quality TIG products to our customers is extremely important to us. Adding the tungsten line expands that commitment." Weldcraft's engineers conducted several rigorous tests to ensure quality and durability. Sammons continues, "Our new line of tungsten line is far superior to other tungsten available on the market-we guarantee it." For more information, contact Weldcraft at 800-752-7620 or 920-882-6800; fax: 920-882-6840; visit weldcraft.com; e-mail customerservice@weldcraft.com or write to Weldcraft Customer Service, 2741 N. Roemer Road, Appleton, WI 54911. Weldcraft is the world's leading manufacturer of GTAW (TIG) welding torches and accessories. A broad line of premium products includes the unique Crafter Series, MicroTig,(TM) Quick Connect System,(TM) WP Series, Single Piece Collet/Collet Body and HPN Nozzles. Weldcraft is a wholly owned subsidiary of Illinois Tool Works Inc. (ITW), Glenview, Ill. ITW is a diversified multinational manufacturer of highly engineered components, assemblies and systems.
More from Software