DC to DC Power Supplies (Converters)
Tunable Loop™ Non-Isolated DC-DC Converter comes in DOSA-standard footprint.
Press Release Summary: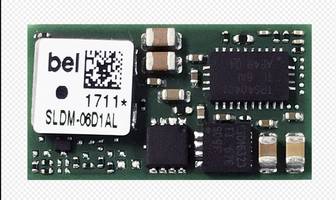 SLDM Tunable Loop™ Non-Isolated DC-DC Converter is available in SLDM-06D1Ax and SLDM-12D1Ax models. Unit is operated in an input voltage range of Vin = 3 Vdc - 14.4 Vdc and provides output voltage of 0.45 Vdc to 5.5 Vdc. Suitable for distributed power architectures, intermediate bus voltage, industrial, telecommunications equipment and server/storage/networking applications, product offers power good signal, fixed switching frequency and output overcurrent protection.
---
Original Press Release:
Bel Power Solutions Announces New SLDM Tunable Loop™ Non-Isolated DC-DC Converter
Low Profile Converter is Ideal for Height Sensitive Applications
Bel Power Solutions, a Bel group company (NASDAQ: BELFA and BELFB) and premier global manufacturer of power management devices, announces the new SLDM Tunable Loop™ SLDM-06D1Ax and SLDM-12D1Ax modules, which are ultra-low profile, non-isolated DC-DC converters that deliver up to 6A and 12A with maximum flexibility of being mounted on the top side or bottom side of the host PCB.
The SLDM modules fit into the smallest, tightest spaces (only 2.8mm high, less than the combined height of 2 pennies!). They can be mounted in areas on the top side where ultra-low profile is required either due to airflow impeding issues or mechanical interference issues, or they can be mounted on the PCB bottom side to save top side real estate. Both modules can be used on bottom side reflow applications, underneath boards, mezzanine and in very dense power applications. The PMBus on board allows power system architects to control the power train using a 3-wire interface (data, clock and GND). Other features include a Power Good signal, fixed switching frequency, output overcurrent protection (non-latching), overtemperature protection, a remote on/off and ability to sink and source current.
Operating over a wide input voltage range (Vin = 3 Vdc - 14.4 Vdc), SLDM modules provide a precisely regulated output voltage from 0.45 Vdc to 5.5 Vdc. Programmable via an external resistor, they have a DOSA-standard footprint and are pin-to-pin with the GE SlimLynx™ Series. Typical applications include distributed power architectures, intermediate bus voltage applications, telecommunications equipment, server/storage/networking applications and industrial equipment.
The SLDM Tunable Loop™ product is in stock with Mouser and Digi-Key (beginning 2018). For more detailed information, download the Bel Power Solutions datasheets for SLDM-06D1Ax and SLDM-12D1Ax or visit belfuse.com/power-solutions.
About Bel
Bel (www.belfuse.com) designs, manufactures and markets a broad array of products that power, protect and connect electronic circuits. These products are primarily used in the networking, telecommunications, computing, military and aerospace, transportation and broadcasting industries. Bel's product groups include Magnetic Solutions (integrated connector modules, power transformers, power inductors and discrete components), Power Solutions and Protection (front-end, board-mount and industrial power products, module products and circuit protection) and Connectivity Solutions (expanded beam fiber optic, copper-based, RF and RJ connectors and cable assemblies). The Company operates facilities around the world.
Related