Tumbling Machines use light to decontaminate food.
Press Release Summary: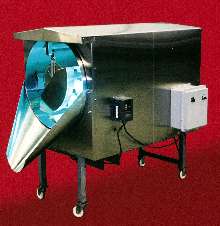 UVC Tumbling Machines incorporate rotating drum or screw conveyor that gently lifts and tumbles product to ensure exposure of all surfaces to germicidal UVC energy. Shatter-resistant, plastic-sheathed UVC Emitters(TM) prevent chance of glass contamination from tube breakage. Lights kill or inactivate mold, yeast, viruses, and bacteria. They produce no ozone or residues, and will not chemically alter food products. Tumbling machines may be floor or ceiling mounted.
---
Original Press Release:
New UVC Tumbling Machines Use Germacidal Light to Decontaminate Food Surfaces
Benefits Include Reduced Food Safety Risk, Reduced Operating Costs, Longer Shelf Life Caldwell, Idaho, January 2003 - C&S Equipment Co. LLC has introduced a line of customized food product tumbling machines that use high output UVC light to decontaminate food surfaces in a wide range of processing applications. Using patent-pending technology, the UVC tumbling machines incorporate either a rotating drum or screw conveyor that gently lifts and tumbles the product to ensure exposure of all surfaces to the germicidal UVC energy. For added safety, the equipment utilizes shatter-resistant, plastic-sheathed "UVC Emitters(TM)" from Steril-Aire, Inc. (Cerritos, Calif.) that prevent the chance of glass contamination from tube breakage. The Steril-Aire lights have the proven ability to kill or inactivate mold, yeast, viruses and bacteria including Listeria, E.Coli, Staphylococcus, Salmonella, Pseudomonas and phage. The innovative UVC tumbling machines thus offer a cost-effective solution to a wide range of food safety challenges - whether they are used to safeguard against tampering and recalls, to help achieve goals of improved product shelf life and yield, or to reduce chemical preservative usage and cost. Approved by the USDA and FDA for surface decontamination, UVC has long been known for its ability to control naturally occurring microbes. However, traditional UVC products suffer serious output losses at colder temperatures. Steril-Aire's multi-patented devices, by contrast, are most effective in the cold and/or moving air environments where many processes operate today. Independent testing has shown these lights to deliver up to seven times greater output than conventional UVC devices. Unlike some other decontamination techniques, they are safe to use, produce no ozone or residues, will not chemically alter food products, and do not require additional product labeling. The C&S UVC tumbling machines come in standard or custom sizes with features that are designed to the individual user's needs. Drums may vary in rotation speed and inclination angle to achieve the desired retention time and product flow rates. The number of lights may vary to deliver the desired microbial "kill" rates. The housing may be insulated for frozen food applications or perforated for fines removal or liquid/solids separation. The units may also be floor or ceiling mounted. Applications for the tumbling machines include but are not limited to: o Frozen products - vegetables, fruits, meats, sea food, bakery products, etc. o Fresh products- vegetables, fruits, meats, sea food, grains, etc. o Cooked and refrigerated products - pasta, deli, cheese o Products prior to bulk storage - potatoes, onions, fruit and other produce. For further information, contact C&S Equipment Co. LLC, 1403 Arlington Ave., Caldwell, Idaho 83605; telephone (208) 989-5799; fax (208) 453-1835; e-mail dave@cs-equipment.com; Web www.cs-equipment.com. Dave Kueneman C&S Equipment Co. LLC (208) 989-5799 dave@cs-equipment.com Roger Stamper Steril-Aire®, Inc. (562) 467-8484 sales@steril-aire-usa.com
More from Electronic Components & Devices