Tubular Flange Heaters offer increased enclosure temp rating.
Press Release Summary: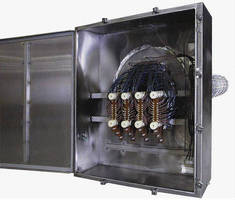 Made with WATROD or FIREBAR® tubular elements brazed or welded to flange, tubular flange heaters are available with enclosure and flange carrying 239°F rating for IECEx 'e' certification. These ratings can eliminate need for additional convective cooling features, additional insulation features, and sun shade, while IECEx 'e' certification indicates increased safety protection. Units heat liquids and gases in tanks, pressure vessels, and vaporizers for applications from 40–4,000 kW.
---
Original Press Release:

Watlow® Increases the Enclosure Temperature Rating on Its IECEx 'e' Certification for Tubular Flange Heaters



Watlow®, an industry leader in the design and manufacture of complete thermal systems, announced that it recently completed a project to increase the temperature of its enclosure and flange rating from +80°C (176°F) to +115°C (239°F) on its IECEx 'e' certification for tubular flange heaters.



Increasing the temperature rating of the original IECEx 'e' certification is attractive to many of Watlow's customers, especially for those working on projects installed in hot environments. The higher enclosure ratings can eliminate the need for additional convective cooling features, additional insulation features and the need for sun shade, which can lower overall system costs.



"Many of our competitors have an enclosure temperature rating that is the same as their ambient temperature rating," said Dennis Long, director of marketing, energy processes business unit. "Since Watlow's enclosure rating has been increased, a likely result is less expensive system design."



The IECEx 'e' certification indicates increased safety protection for the enclosures of tubular flange process heaters.

The principles of the increased safety protection concept are: no sparking contacts; no semiconductor devices (the failure mode is not possible to ascertain); no hot surface above temperature class; high integrity electrical connections; increased creepage (distance over insulation surface) between live parts and to earth potential; increased clearance distance (through air) between live parts and to earth potential; and high quality materials that have a rated continuous operating temperature of at least 20°C greater than that achieved under rated voltage and at maximum ambient conditions. Achieving the additional IECEx 'e' certification provides Watlow customers a guarantee that the products they are buying are safe.  



"Agency certifications, such as the Ex 'e' increased safety protection, are important achievements because certification marks are our customer's assurance that our products meet rigorous standards for safety and reliability," said Jeff Knobloch, product manager.



Watlow's flange heaters are designed for heating liquids and gases in tanks, pressure vessels, vaporizers and similar for applications from 40 to 4,000 kilowatts. They are made with WATROD or FIREBAR® tubular elements brazed or welded to a flange.



Typical applications include a variety of thermal processes in the oil, gas and power generation industries. Whenever an indirect or direct heat exchanger is needed, contact Watlow to solve your application needs.



About Watlow

Watlow designs and manufactures industrial heaters, temperature sensors, controllers and supporting software as well as assemblies — all of the components of a thermal system. The company partners with its customers to optimize thermal performance, decrease design time and improve efficiency of their products and applications.



Watlow brings its experience to numerous industries, including semiconductor processing, environmental chambers, energy processes, diesel emissions, medical and foodservice equipment.



Since 1922, Watlow has grown in product capability, market experience and global reach. The company holds more than 450 patents and employs 2,000 employees working in nine manufacturing facilities and three technology centers in the United States, Mexico, Europe and Asia. Watlow also has sales offices in 15 countries around the world. The company continues to grow, while the commitment remains the same — to provide its customers with superior products and services for their individual needs.



For additional information call your nearest Watlow representative:

Watlow

Phone: 1+ (800) WATLOW2, 1+ (314) 878-4600

Fax: 1+ (877) 893-1005, 1+ (314) 878-6814

Internet: www.watlow.com

Email: inquiry@watlow.com

More from Electronic Components & Devices