Tubular Cable Conveyor gently transfers friable materials.
Press Release Summary: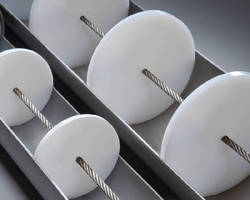 Featuring 6 in. dia, FLEXI-DISC™ Conveyor utilizes low-friction polymer discs to slide materials gently and dust-free through stainless steel tubing, which can be routed horizontally, vertically, or at any angle, through holes in walls or ceilings. System can be configured with single or multiple inlets that are metered and/or non-metered. In addition to galvanized cable, discs are available affixed to stainless steel and nylon-encapsulated stainless steel cable for sanitary applications.
---
Original Press Release:

Flexicon Introduces 6 IN. (15 CM) Tubular Cable Conveyor



BETHLEHEM, PA -- Flexicon has expanded its FLEXI-DISC™ line of Tubular Cable Conveyors with the addition of a 6 in. (15 cm) diameter system, more than doubling the capacity of its recently introduced 4 in. (10 cm) diameter conveyor.



The conveyor is intended for the gentle transfer of friable materials including virtually all beans, cereals, coffees, dried fruits, frozen vegetables, grains, nuts, beans, pet foods, seeds, snack foods, spices, teas and other fragile/friable food products. Typical non-foods include bulk chemicals, minerals, prills, chopped fiberglass, microspheres, regrind, pellets of all types, tobacco and other fragile products.



Low-friction, high-strength polymer discs slide materials gently, quietly and dust-free through smooth stainless steel tubing, which can be routed horizontally, vertically or at any angle, through small holes in walls or ceilings, over short or long distances.



The system can be configured with single or multiple inlets that are metered and/or non-metered, and discharges that are valved or open.



The cable-disc assembly is pulled through the tubing circuit by a drive wheel at one end of the circuit, and kept taut by an automatic cable tensioner at the opposite end of the circuit.



All housings and ancillary metallic components are of 304 or 316 stainless steel with continuous welds ground and polished to food, pharmaceutical or industrial standards.



In addition to galvanized cable, discs are available affixed to stainless steel and Nylon-encapsulated stainless steel cable for sanitary applications. Wet or dry cleaning accessories can be quickly attached to the cable to minimize downtime between changeovers, while Clean-In-Place (CIP) accessories allow automated sanitizing of the system.



The conveyor is offered as a stand-alone system in unlimited layouts, and/or pre-engineered and integrated with upstream and downstream equipment such as inlet hoppers, bag dump stations, bulk bag dischargers, bulk bag fillers, drum/box/container dumpers, weigh batching/blending systems, screeners, filling machines and storage vessels manufactured by Flexicon and others.



The addition of tubular cable conveyors to the company's line of pneumatic and flexible screw conveyors is said to allow efficient transfer of virtually all bulk materials and blends from fine powders to large granules that are free- and non-free-flowing, or prone to degradation.



Free lab testing is offered on all conveyor types and sizes with upstream and downstream equipment to simulate customer processes.



Contact Flexicon Corporation

1-888-353-9426

sales@flexicon.com

www.flexicon.com

More from Controls & Controllers