Tubing Pumps provide accurate, repeatable fluid transfer.
Press Release Summary: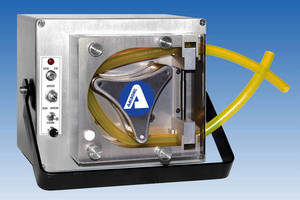 Designed for low- to high-viscosity liquids, TPV Pump Systems can also accommodate fuels with appropriate tubing. Peristaltic pumps can be mounted in any direction and feature 316 stainless steel rollers and shafts. Along with safety cover, features include maintenance-free, 24 Vdc, brushless motor; and controls for prime, brake, rpm, reverse flow direction, and power LED. Speed is adjustable from 0–300 rpm, and flow rates vary from 8–377 ml/min depending on motor speed and tubing size.
---
Original Press Release:

NEW Economical Tubing Pumps



Aalborg® Instruments announced the expansion of its economical TP Peristaltic Pump line. TPV models are designed for liquids of low to high viscosity and can also accommodate fuels with the appropriate tubing.



TPV Pump Systems ensure stable performance and accurate, repeatable liquid transfer applications. They are ideal for laboratory, processing, and OEM applications.



TPV Pump Features: All Models



Long tubing life

3 - 316 stainless steel rollers and shafts

Can be mounted in any direction

Controls for prime, brake, rpm, reverse flow direction, power LED

Adjustable handle to carry, hang, or stand pump

Safety cover

Maintenance-free 24 VDC brushless motor

Speed adjustable from 0 to 300 rpm

Unique adjustable tubing holder assembly

Fixed occlusion wall



TPV Pump Systems and Additional Model Features:

Pump Heads: Simply attach the pump head to your motor via existing mounting holes or to one purchased from Aalborg®.

TPVAD: AD Model Adjustable RPM Pumps: Standard features.

TPVDP: DP Model Adjustable RPM Pumps with Dispensing: Remote Start/Stop option is available. Set timer relay to dispense or to stop dispensing liquids over a selected time period to either Shot Mode or to Continuous Pulse Mode.

TPVRP: RP Model Adjustable RPM Pumps with Dispensing: Set timer relay to dispense liquids for a selected time period and to stop dispensing for another selected time period.

Flow Rate Ranges: 8 ml/min to 377 ml/min dependent on motor speed and tubing size.



For additional information, please visit: www.aalborg.com



Aalborg® Instruments

20 Corporate Drive

Orangeburg, New York 10962 USA

Toll Free +1 (800) 866-3837 (US/Canada)

Phone: +1 (845) 770-3000

Fax: +1 (845) 770-3010

E-mail: info@Aalborg.com

Web: www.Aalborg.com

More from Software