Tubing Cutter cuts stainless steel.
Press Release Summary: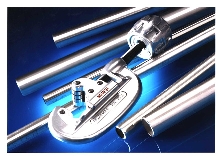 RIDGID(R) Model 15-SI with E1525 cutter wheel provides clean, accurate cutting of stainless steel tubing. Large knob gives user more control over feedscrew torque, and allows for faster feedscrew advancement. Cutter uses 6 individual bearings that help decrease drag around tubing. Bearings create smooth, fluid cut, reducing number of rotations needed to cut tubing. It cuts tubing from 3/16 to 1 1/8 in. dia and weighs 1 1/2 lb.
---
Original Press Release:

New RIDGID (R) 15-SI Tubing Cutter Cuts Stainless Steel Tubing Cleanly and Precisely


ELYRIA, OH - May 2002 - Ridge Tool Company is introducing its RIDGID(R) Model 15-SI stainless steel tubing cutter, featuring the new E1525 cutter wheel. Together, they are designed especially for clean, accurate cutting of stainless steel tubing.

Held to exact tolerances, the new E1525 cutter wheel is highly polished for extended life and to reduce burrs on the stainless steel tubing.

The 15-SI tubing cutter features a larger knob to give the user more control over feedscrew torque. The knob also allows for faster feedscrew advancement because of an increased flywheel effect. Instead of traditional rollers, the new tubing cutter uses six individual bearings that help to decrease drag around the tubing. The bearings also create a smoother, more fluid cut, reducing the number of rotations needed to cut the tubing.

The 15-SI tubing cutter cuts tubing from 3/16" to 1-1/8" in diameter (5mm-28mm). It weighs only 1-1/2 lbs. Like all RIDGID products, the tubing cutter and cutting wheel are backed by a full lifetime warranty against defects in material and workmanship.

Ridge Tool Company, a leading manufacturer of hand and power tools, markets its products in more than 130 countries. The company's broad offering includes threading and drain cleaning machines, and more than 300 types of tools serving the rental, plumbing, HVAC/R, industrial, electrical, petroleum, institutional, commercial and hardware markets. Ridge Tool is a subsidiary of St. Louis, Missouri-based Emerson.

For additional information on the RIDGID Model 15-SI stainless steel tubing cutter, please contact Ridge Tool Company, 400 Clark Street, Elyria, OH 44036 U.S.A. Or, call toll free: 1-800-769-7743.

Ridge Tool Company 400 Clark Street P.O. Box 4023 Elyria. Ohio 44036-2023, U.S.A. Ph: (440) 323-5581 Fax: (440) 323-5204 Internet: www ridgid.com Subsidiary of Emerson Electric Company

More from Electronic Components & Devices