Tube Loader handles 120 tubes/min.
Press Release Summary: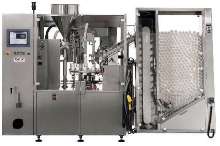 Suited for cosmetics and pharmaceutical filling machines, Universal Feeder handles plastic and metal tubes in all available formats. Machine connects to filler and is divided into 3 zones for storage, separation, and conveying of tubes. It holds up to three 24 x 16 in. boxes at once, providing uninterrupted production time of 11 min for 1 in. dia tubes at speed of 100 tubes/min. Controls enable user to adjust machine manually to exact tube format, diameter, and length.
---
Original Press Release:

Kalix New Multi-Format Universal Feeder Allows Filling Speeds Of Up To 120 Tubes per Minute for Cosmetics and Pharmaceuticals


The French company KALIX has introduced a new tube loader called Universal Feeder, capable of feeding tube-filling machines for both plastic and metal tubes in all available formats at speeds of up to 120 tubes/minute. Most automatic tube loaders currently available on the market for cosmetics and pharmaceutical filling machines are often limited in use with small tubes (1/2 inch in diameter) with canula or heavy caps, and very flat elliptical tubes. In both cases, the loader adjustments can be very difficult and the ratios of incorrectly fed tubes and tubes that tip over during transfers result in unsatisfactory production yields.

In response to customer requests, KALIX has developed and patented a machine that automatically feeds the most problematic types of tubes, in particular elliptical tubes, and achieves excellent results. The Universal Feeder is ergonomically designed with a stainless steel covered welded frame, and transparent panels in the casing providing a full view of the tubes. The machine connects directly to the filler and is divided into three zones for the storage, separation, and conveying of the tubes. Controls are housed in an electrical cabinet mounted on one side.

The Universal Feeder can hold up to three 24 x 16 inches boxes at once, providing an uninterrupted production time of 11 minutes for 1 inch-diameter tubes at a speed of 100 tubes/min. With the lowest possible loading position, the machine offers easy loading and excellent ergonomics, even for the third box loaded in the uppermost part of the machine. It also offers exceptional speed, which can be set at up to 120 tubes/minute. Format-changing time is about five minutes and no change parts or other tools are needed. Fewer than five controls enable users to adjust the machine manually to the exact tube format, diameter, and length desired. One unique feature is the transversal adjustment that slides the entire assembly on bearings in order to position it in relation to the filler according to the cap reference. Finally, the new machine avoids all damage to the components, through use of special processes that protect the tubes from damage, including minor abrasions caused by friction during handling.

The Universal Feeder can be used to load most Kalix tube fillers, including the KX1101, KX1100, and KX801 models. This machine has solved the problems of feeding elliptical tubes automatically, and with none of the common disadvantages of robot feeders.

About Kalix:
Founded in 1928 in France, KALIX has become the world leader in packaging machines for cosmetic products.

Through close collaboration with customers and a strong capacity for innovation, KALIX works to bring the best possible solution to the problem at hand. KALIX counts a number of major brands among its satisfied customers and has sold over 6000 machines in 117 countries around the globe over the past 40 years.

Since 2004, KALIX has been proud to belong to the SIRIUS MACHINES division of the NORDSTJERNAN Group, alongside the NORDEN, CITUS, and ADMV Companies.

For more information, please contact:

In the U.S.:
SIRIUS MACHINERY
Albert WOODWARD
Tel: (908) 507 6912
E-mail :albert.woodward@siriusmachinery.com

Michel BIZEAU
Tel: (908) 240 9415
E-mail :michel.bizeau@siriusmachinery.com
230 Industrial Parkway
BRANCHBURG NJ 08876
Fax: (908) 685 3702

More from Laboratory and Research Supplies and Equipment