Tube Inspection Systems utilize non-contact, IR probes.
Press Release Summary: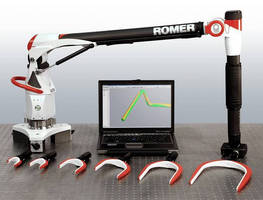 ROMER non-contact tube inspection systems meet needs of tube and wire bending applications such as inspection, bend correction, reverse engineering, and fixture verification. IR probes provide operator-assisted visual notification via laser stripe indicating measured area, enabling operator to view where data points are acquired on tube/wire during inspection. Series is based on Absolute Arm portable CMM with absolute encoders that provide volumetric accuracy down to ±0.023 mm.
---
Original Press Release:

ROMER Introduces New, Enhanced Non-Contact Tube Inspection Systems



Inspection Probes and Absolute Encoders Simplify Tube Measurement and Manufacturing Process

North Kingstown, RI - ROMER, a brand of Hexagon Metrology, Inc., today announced their new line of non-contact tube inspection systems. The enhanced product line provides solutions for a wide array of tube and wire bending applications including tube inspection, bend correction to reduce scrap, reverse engineering, and fixture verification. System enhancements focus on expanded flexibility, simplicity, and ease-of-use to increase shop productivity.

New to the system, a range of non-contact, infrared probes provide operator-assisted visual notification via a laser stripe indicating the measured area. The operator can view where data points are acquired on a tube or wire during the inspection process. The probes are interchangeable with traditional ball probes without the need for re-calibration, delivering true plug-and-play capability. Brackets, flanges, bosses or other geometric features can now be included in the measurement routine. Besides saving time, no re-calibration also provides an additional layer of error proofing in the field. As with ROMER's legacy systems, the non-contact probing feature enables measurement of the most flexible tubes or wires from 4mm to 130mm in diameter, without risk of deflection.

Zvonimir Kotnik, Director of the Business Management group of Hexagon Metrology, Inc. sums up the new tube inspection product line, "The straightforward operation of the overall system guarantees simple, flawless operation. By making the measurement process easier for the operator, we have improved efficiency, accuracy, and productivity for the entire tube shop".

ROMER's tube inspection system is based on the patented ROMER Absolute Arm portable CMM. Proprietary absolute encoders are located in the arm's primary axes, so the arm always knows the position of its joints. This eliminates antiquated homing procedures, so the operator can turn on the system and start measuring immediately. The Absolute Encoders provide probing volumetric accuracy down to ±0.023mm depending on the model. The articulating arm also features low profile, Zero-G counterbalance to stabilize its weight for one-handed operation and effortless control above and below its centerline.

ROMER's tube inspection system utilizes the Data Overlay Camera System (DOCS) software platform. Pictures can be taken with the arm's onboard digital camera, and DOCS overlays the tube wire frame onto the digital picture. This enables the inspection report to show exactly how the tube was supported or fixtured during measurement. DOCS communicates with most CNC bender interfaces, so corrected bend data can be sent directly to the CNC bending machine, reducing the process of trial and error associated with manual measurements. DOCS user training is generally 2 days as compared to 5 to 6 days for traditional CMM software.

About Hexagon Metrology, Inc.
Hexagon Metrology serves the high precision measurement and inspection needs of worldwide manufacturers with its extensive line of metrology hardware, software, accessories and customer services. The company's name-brand portfolio of quality assurance products include Brown & Sharpe, Cognitens, Leica Geosystems, ROMER, Sheffield, PC-DMIS, DEA, Leitz and TESA. Hexagon Metrology has an unrivaled installed base of more than 1.5 million handheld, stationary and portable measurement devices, and over 35,000 seats of PC-DMIS metrology software. More information is at www.HexagonMetrology.us.

The company is a business unit of Hexagon AB (Stockholm, Sweden), Hexagon's is listed on the NASDAQ OMX Stockholm exchange (HEXA-B) and has a secondary listing on the SIX Swiss Exchange. The Hexagon group consists of more than 12,000 employees located in 43 countries, and net sales of about 2.2 billion Euro.

More from Communication Systems & Equipment