Tube / Pipe / Hose Cutters and Cutting Machinery
Tube Cutter processes flexible tubing to tight specifications.
Press Release Summary: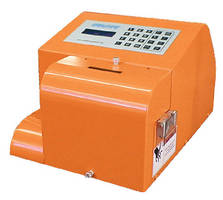 Featuring 10 feed rates, WC601D Rotary Blade Tube Cutter is capable of processing materials such as flexible polyurethane, flexible PVC, nylon reinforced hose, and rubber hose to programmed length and number of pieces. Adjustable belt feed and rotary cutter ensure there is no crushing of material, either along length or on cut ends. Batching feature allows all parameters for frequently run jobs to be pre-programmed, while kitting feature allows collection of batches to be run sequentially.
---
Original Press Release:

The Eraser Company, Inc. Announces The Ultimate Workhorse in Medical Cutting



The Eraser Company, Inc. Announces WC601D Rotary Blade Tube Cutter



Eraser's fully automated Model WC601D Rotary Blade Tubing Cutter is perfect for processing flexible tubing to tight specifications such as those required for medical applications. Model WC601D is capable of processing materials such as flexible polyurethane, flexible PVC, nylon reinforced hose and rubber hose to the programmed length and number of pieces. The belt feed and rotary cutter ensure there is no crushing of material, either along its length or on the cut ends. To optimize production rate, repeatability and accuracy of the cut length, Model WC601D has ten feed rates which allow the operator to choose the correct rate for a given material. Using a unique combination of an adjustable dual driven belt feed and a rotary cutting head, coupled with a reliable stepper drive system, the WC601D achieves results formerly only possible by hand operation. Programming of the unit is simple. A batching feature allows all parameters for frequently run jobs to be pre-programmed, and a kitting feature allows a collection (or set) of batches to be run sequentially. Up to 99 batches and 10 kits may be programmed.



WC601D Linear Speeds







 



Linear speed
 



 





Feed Rate #



inches/sec



cm/sec





0



4.8



12.1





1



9.5



24.2





2



11.9



30.2





3



16.7



42.3





4



19.1



48.4





5



21.4



54.4





6



26.2



66.5





7



28.6



72.6





8



33.3



84.6





9



35.7



90.7







See the WC601D in action: YouTube!

Visit Eraser to see the WC601D operating manual and other cutting machines.



About The Eraser Company, Inc.

The Eraser Company, Inc., celebrating over 100 years in business, manufactures a wide range of machinery that enables customers to manufacture, prepare, and process, wire, cable, and tubing products more efficiently, effectively, and profitably. The company is ISO 9001 Certified, and their products can be found worldwide.For more information on Eraser's entire product line visit www.eraser.com or call 315-454-3237.



The Eraser Company, Inc.

Contact: Alina Osbahr

Marketing Coordinator

Phone: Toll Free: (800)724-0594

or 315-454-3237

Fax: 315-454-3090

Email: aosbahr@eraser.com

More from Packaging Products & Equipment