Miscellaneous Cleaning Equipment
Tube Cleaning System available in three configurations.
Press Release Summary: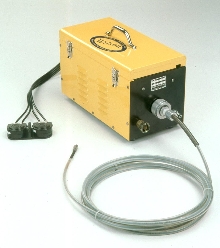 Wils-Away Pneumatic Systems include pneumatic drive unit, flexible shaft and casing, 6 spiral brushes or expanding brush and refill set, and foot pedal for hands-free On/Off and Forward/Reverse operation. Wils-Away 3000 is a 1 1/2 HP portable unit; Wils-Away 4000 4 HP dolly mounted unit is for heat exchangers, condensers, and small diameter pressure vessels; and Wils-Away 4500 4 HP dolly mounted system is for boilers and large diameter vessels.
---
Original Press Release:
Pneumatic Tube Cleaning System Is Available in Three Configurations
HVAC  Boilers  Heat Exchangers  Condensers  Chillers

Long Island City, New York USA->When an air-powered tube cleaning system is the tool of choice, Thomas C. Wilson, Inc. offers three pneumatic tube cleaning solutions:

- Wils-Away 3000: 1 1/2-HP Portable Pneumatic Tube Cleaning System (Heat Exchangers, Condensers and other small diameter pressure vessels)

- Wils-Away 4000: 4-HP Dolly Mounted Pneumatic Tube Cleaning System (Heat Exchangers, Condensers and other small diameter pressure vessels)

- Wils-Away 4500: 4-HP Dolly Mounted Pneumatic Tube Cleaning System (Boilers and other large diameter pressure vessels)

Each Wils-Away Pneumatic comes in a complete kit that includes:

- A powerful and durable Wils-Away pneumatic Drive Unit

- A Wils-Away Flexible Shaft & Casing

- 6 Spiral Brushes or a Wilson Expanding Brush and Refill Set

- Foot pedal for hands-free On/Off and Forward/Reverse operation

Wils-Away Pneumatic Tube Cleaning Systems offer several unique features and benefits:

- Both forward and reverse drive for cleaning enhanced tubes and tubes in surface condensers (Editor's Note: No other pneumatic unit has this capability!)

- When access to a pressure vessel is limited, the Wils-Away 3000 Compact Pneumatic Tube Cleaning System is lightweight (just 32 pounds) and maneuverable (just 12 inches high and 23 inches long)

- 500 to 3000 rpm variable speed motor cleans tubes fast and thoroughly

- A built in Tool Box keeps accessories and tools close at hand

- Can be run wet (to clean heat exchangers, condensers and water tube boilers) or dry (when cleaning fire tube boilers and water heaters)

- Water flushing aids cleaning action-when water is clear, tube is clean

- Wide selection of cleaning heads including the unique Wilson Expanding Brush

- Wils-Away Shafts & Casings are available in nylon, Teflon, steel or rubber-coated steel

- Air activated Foot Pedal ensure operator safety-Optional Foot Pedal offers remote Forward/Reverse control

For many tube cleaning applications, an electric-powered tube cleaning unit is not appropriate:

- Compressed air is more readily available than electricity

- Explosive or combustible materials prohibit the use of electric drive units because of the fear of sparks

- The tubes to be cleaned may have water or other fluids in them, so an electric drive unit presents unnecessary risks

In addition, Wils-Away Pneumatic Tube Cleaning Systems are very attractively priced! The cost of a Wils-Away kit is $100 to $200 less than the cost of a drive unit and similar accessories from any competing vendor. Thomas C. Wilson, Inc. also offers a complete line of electric tube cleaning systems, as well as a selection of air motor-based tube cleaning systems, and an extensive selection of tube cleaning accessories and supplies.

Thomas C. Wilson, Inc. Wilson has manufactured tube cleaning, pressure vessel maintenance, pressure vessel fabrication and tube pulling, tube cutting, tube flaring and tube rolling tools, as well as tube plugs, tube micrometers and leak detectors, for
70 years. Headquartered in Long Island City, New York, Thomas C. Wilson, Inc. distributes its products through a global network of Authorized Distributors. For information about the Wilson tube cleaning systems, product and accessories, as well as Wilson tube expanders, tube pullers, tube cutters, tube facing tools and pneumatic tools and accessories, or the name and telephone number of a local Authorized Wilson Distributor, contact Thomas C. Wilson, Inc.:
Toll Free: 1-800-230-2636 Telephone: (718) 729-3360
Fax: (718) 361-2872 E-mail: smarttools@tcwilson.com
More from Chemicals & Gases