Tube Benders offer tube capacities from 1 ¼ to 10 in.
Press Release Summary: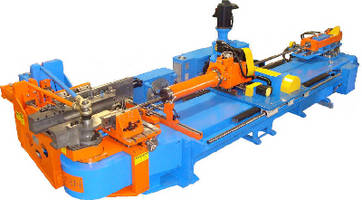 Available in 12 models, 2010 Elite Series offers comfortable load height of 36 in. from floor to center of tube. Direct acting swing arm design minimizes clamping deflection and puts clamp force on center of tube, while heavy-duty precision linear bearings provide exact tool positioning and eliminate metal-to-metal wear surfaces. No tools are needed to change or position clamp die or to change pressure die. Pressure is programmed and stored in control.
---
Original Press Release:

Horn Machine Tools Introduces 2010 Elite Series Tube Benders for Reduced Set-Up Time, Faster Speed



Highlights/Key Facts

o 12 models of heavy-duty tube benders with tube capacities ranging from 1-1/4 in. to 10 in.

o 50-percent reduction in set-up time compared to competitive models through tool-less adjustments and settings.

o New user-friendly features with extended service intervals.

o New main drive motor with higher HP provides faster open/close and bending speeds.

MADERA, Calif., -Horn Machine Tools, Inc. introduces the 2010 Elite Series of tube bending machines with capacities ranging from 1-1/4 in. to 10 in. Designed for tube bending in automotive, aviation, HVAC, boiler, shipyard and general fabrication applications, the Elite Series offers a 50-percent reduction in set-up time, user-friendly features, extended service intervals and faster bending speeds.

"We've simplified the design, construction and set-up of our Elite Series tube benders to improve operator interaction with the machine while eliminating features that caused unnecessary wear and hassle," says Kent Horn, president, Horn Machine Tools, Inc. "Tool change time has been reduced by as much as 50 percent, adjustments and positioning are often done now without tools, and a new higher horsepower main drive motor provides faster bending and open/close speeds."

Additional Product Information

2010 Elite Series benders are lowered to a comfortable load height of 36 in. from the floor to the center of the tube (based on a 5-in. bender), although taller machines are available as an option if greater floor clearance is desired. The machines feature a new direct acting swing arm design that reduces clamping deflection, puts clamp force on the center of the tube, and eliminates wear parts, pins, links, plates, and doesn't require a jack screw to adjust tool pressure. A direct acting clamp and PD, along with a new upright PDA design, makes it easy to remove and position tooling, often without tools:

o No tools needed to change or position the clamp die.

o No tools needed to change the pressure die.

o Upgrading the clamp and pressure die slide with linear bearing guides eliminates the aluma-bronze slides and gibs.

o Heavy-duty precision linear bearings provide exact tool positioning and eliminate metal-to-metal wear surfaces.

o Tool holder is easy to move and position; no T-slot slide.

o Clamp position is preset by the length of the bar.

o Linear bearings have load centered to reduce wear.

o Pressure is programmed and stored in the control.

Mandrel base improvements include an electric position adjustment that makes it easy to move and reposition without tools, a quick disconnect mandrel rod that is easy to remove and replace without tools, and front- and rear-guided rails that offer higher rigidity and increased service life of the cylinder rod. Similarly, wiper base improvements eliminate the need for tools to adjust the X or Y position and allow for easy adjustment and repeatable set-up position. A positive-locating wiper holder and mounting bar eliminates guesswork when mounting the wiper die. Easy rake angle adjustment and repeatable positioning further reduces set-up time, while X-axis side shift servos and improved tool support further eliminates the need for tools to make adjustments.

The 2010 Elite Series also features a functional, compact design built for speed: a single cabinet for access to machine controls and circuitry, a new larger horsepower main drive motor that increases open/close and bending speeds, and an increased retractable wiper speed thanks to a smaller, optimized cylinder. Faster tool changes reduce overall set-up time up to 50 percent, and fewer components and contact points throughout the machine extends service intervals.

About Horn Machine Tools

Horn Machine Tools, based in Madera, Calif., specializes in CNC & Semi-automatic tube benders, all-electric CNC benders, tube bender tooling, robotic tube cells and tube fabrication machinery of all types. Tube bender rebuilding and retrofitting services are also available.

Horn Machine Tools can be found on the Web at www.HornMachineTools.com

More from Agricultural & Farming Products