TSI's AirPro® Velocity Meter Wins 2017 Annual Innovative Product Award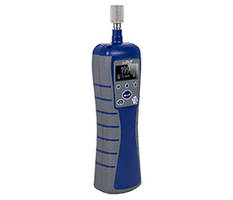 SHOREVIEW, Minn., Dec. 20, 2017 - TSI Incorporated is proud to announce that its AirPro® Velocity Meter AP500 has won a 2017 Annual Innovative Product Award in China.
The China Ventilation Technology Management Center (CVTMC) honored the AirPro instrument at the 2017 National Fresh Air Industry Innovation and Development Conference.
"I was honored to accept this award for TSI at this important air quality conference," said Marketing Manager Freddy Huo. "The AirPro Velocity Meter is part of the AirPro Solutions platform, which is a high-performing, Bluetooth-enabled ventilation testing system. Using wireless testing, a mobile app, and real-time data management, AirPro is the future of ensuring fresh air control."
About CVTMC
China Ventilation Technology Management Center of China Association of Plant Engineering is a direct affiliate of the National Development and Reform Commission. It is the professional technical service organization of China construction ventilation system. It is also a cooperation and communication platform for ventilation equipment enterprises, which mainly focuses on combating climate degradation and environmental pollution, improving the environment, public health protection, and new technology development of ventilation systems.
About TSI Incorporated
TSI Incorporated serves a global market by investigating, identifying and solving measurement problems. As an industry leader in the design and production of precision instruments, TSI partners with research institutions and customers around the world. Together, we set the standard for measurements for aerosol science, health and safety, indoor air quality, airflow, fluid dynamics and biohazard detection. With headquarters based in the U.S. and field offices throughout Europe and Asia, TSI has established a worldwide presence in the markets we serve. Every day, our dedicated employees turn research into reality.
For more information about TSI, visit www.tsi.com.
More from Thermal & Heating Equipment