TRUMPF Demonstrates Cutting Edge Performance at AHR Expo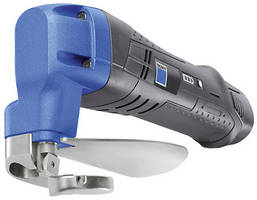 FARMINGTON, Conn. - During the AHR Expo at the Orange County Convention Center in Orlando, Florida, January 25 - 27, TRUMPF will showcase the latest advancements in power tools in Booth # 4770.

The highlight of the TRUMPF booth will be the world's smallest and lightest weight battery shear, the TruTool S 130. Developed specifically for thin-sheet users, the TruTool S 130 measures only 10 x 15 inches, and together with its 10.8 V battery, weighs only 3 pounds. Designed for thin sheets up to 0.5 inches, the cordless tool cuts long stretches quickly at a working speed of up to 23 feet per minute.

The TruTool S 130 is designed for industries such as insulation, roof and wall, ventilation, sheet work, heating construction and other similar industries.

Also on exhibit in the TRUMPF booth at the AHR Expo is the TruTool C 160, which offers ideal visibility for cutting. The TruTool C 160 without chip breaker provides you with an open view onto the workpiece, permitting precise cutting according to the plan. The cuts are free of distortion and the quality is high. With the optional parallel stop, strips from 35 to 300 mm can be precisely cut. The TruTool C 160 has a working speed of 6 - 10 m/min and cuts thickness to 1.6 mm. Applications include house-front construction, plumbing, ventilation works and climate control technology and others.

The TruTool C 250 with chip breaker is the most powerful and fastest slitting shear in its class and can be operated with one hand for interior cutouts and notches. It delivers the power to cut sheet up to 2.5 mm thickness, with a working speed of 3 - 10 m/min.

Also on display at AHR is the TruTool F 301, for straight or bent ducts from think sheet on up. With this seam closer, Pittsburgh seams in straight or bent ducts can be made in an independent roll-glide process. The TruTool F 301 can join sheets between 0.45 and 1 mm thickness. Adjustment to thickness is automatic and the self-feed ensures continuous, tight seaming.

In addition, the power fastener TruTool TF 350, is a handy machine for mobile and stationary use. Point for point, this economically superior power fastener offers durable fastening of same or different materials-with no need for additional screws or rivets-with maximum sheet thickness of 3.5 mm.

TRUMPF is one of the world's largest producers of fabricating machinery and a world market leader in lasers used for industrial production technology.

Additional company information is available at: www.us.trumpf.com.

More from Adhesives & Sealants